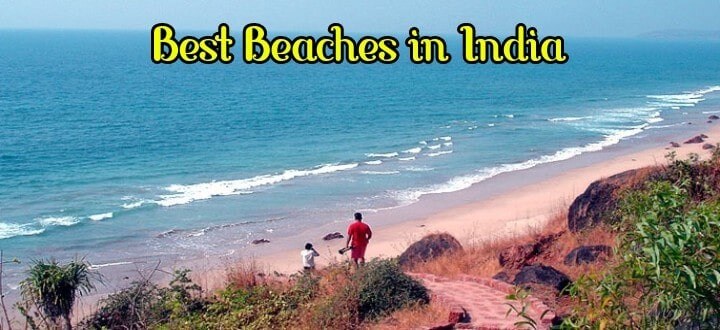 Best Beaches in India
Explore the splendid joy of travelling!
15 Best Beaches in India
India is a land of versatile natural beauty and therefore we have the best beaches that are no less than foreign location beaches. there are many beautiful and stunning beaches in India and choosing the best one of them is slightly hard because every beach has its own specialties. So apart from that one here some most popular and beautiful beaches of India where everyone would love to visit once.
Whether you are single going with friends or couples looking for a romantic destination or married honeymooners looking for a perfect honeymoon destination. There are places in and near India that is very beautiful, you will find the clear white sand and blue lagoon water after seeing that you will start loving nature and if you are in India then these are the most beautiful beaches destination that one should never miss. Whenever it comes to roam the beach, the first thing that comes to mind is Goa, Kerala, Karnataka, etc. which are beautiful beach points on the western coasts. Know about the beaches present in India. which attracts tourists due to its beauty and spectacular scenery.
1. Arambol Beach, Goa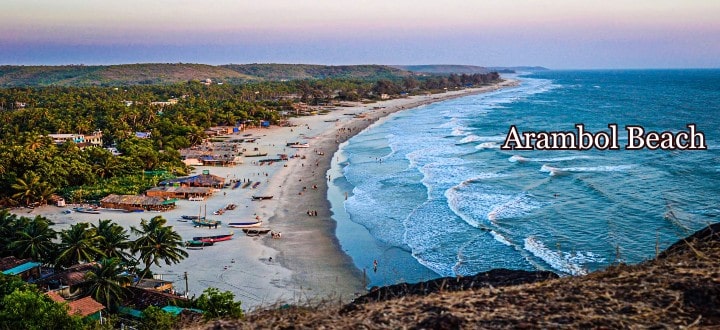 Goa is a INDIA's Party Capital as we all know and Goa has all the ingredients to make your holiday memorable, it has lots of beaches and pubs, you will explore the best of nightlife here like nowhere else in India, and DJ's from all over the world collaborate here for the biggest festival in December the "Sunburn" .., along with lots of watersports. Arambol Beach is a beautiful and serene beach of Goa which is very much liked by the tourists visiting here. Situated in North Goa, this beach is 55 kilometers from the capital of Goa.
* * * * * * * * * *
2. Anjuna Beach, Goa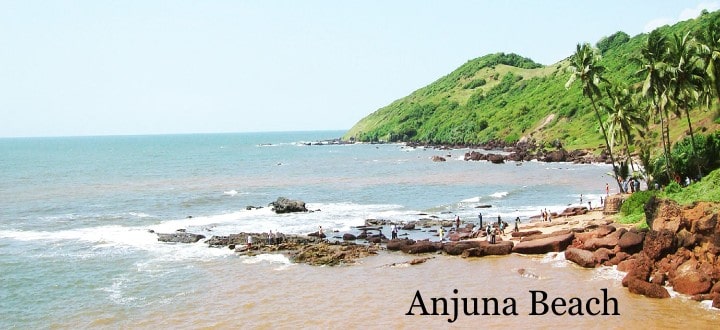 Anjuna beach is one of the most popular beaches in Goa which is famous for night beach parties, a wide range of water sports, and many other fun activities. Another reason for being famous for this beach is its flea market where one can buy a variety of interesting stuff at this place.
* * * * * * * * * *
3. Calangute Beach, Goa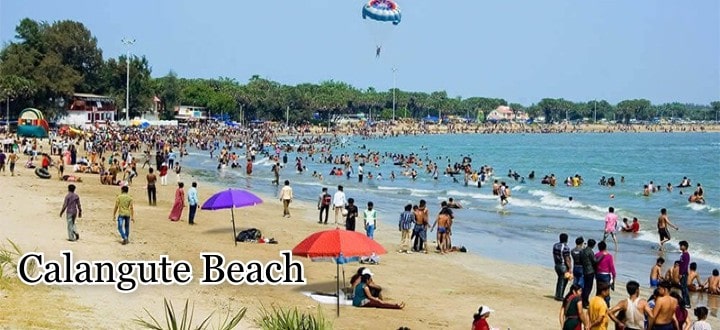 Also known as "The Queen of Beaches", Calangute Beach is another famous beach of Goa. The beach is known for its finest accommodation facilities at the luxurious tourist resorts and hotels nearby. Being among the top-rated beaches of Indi, this beach offers numerous fun activities and water sports.
* * * * * * * * * *
4. Palolem Beach, Goa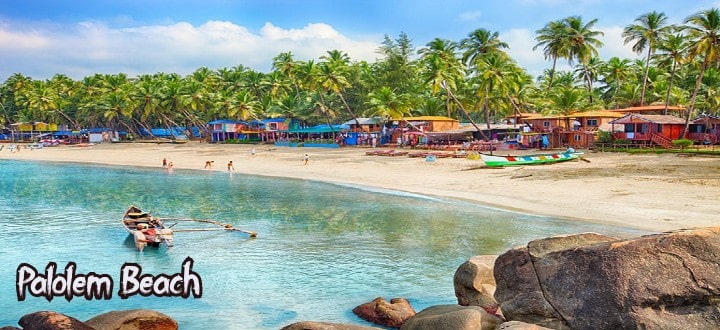 Palolem Beach is located in the Indian state of Goa. The capital of Goa is about 70 km away from Panaji and about 40 km from Madgaon town. Goa local cab facility is always available so that you can easily travel all over Goa. It is a clean and clean beach which provides ferry service to various beaches and travel villages. It is popular for dolphin cruises and fishing. Palolem beach is one of the most beautiful beaches in Goa, It is located in South Goa. Palolem can enjoy the sunset and beautiful view on the beach.
* * * * * * * * * *
5. Marari Beach, Kerala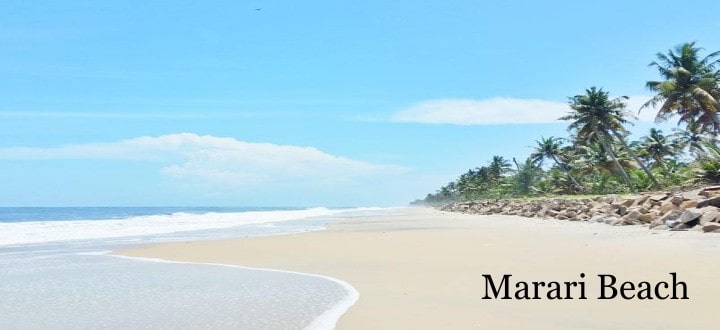 Situated in southern India, Kerala has one of the magnificent beaches that serve as the best alternative to GOA. One can enjoy it on a quiet and beautiful Marari Beach just 15 km north of Alappuzha. Marari is not a common beach. It is also called 'Hammock Beach'. We do not say that, according to a survey by National Geographic, people have considered it as one of the five best Hammock beaches in the world. Hammock, tied on a coconut tree overlooking the blue water and golden yellow sand, would probably be able to celebrate a holiday lying comfortably on a swing, coming to Alappuzha (Marari Beach) would prove to be wrong.
* * * * * * * * * *
6. Varkala Beach, Kerala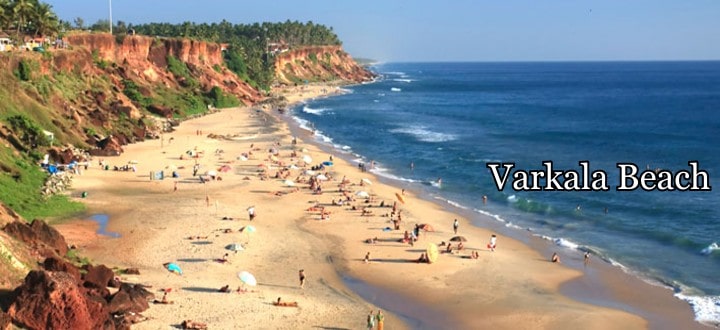 Varkala Kollam has located thirty km from the city. It is the only place in southern Kerala where high rocks meet the Arabian Sea. The specialty of this place is that here too there are beautiful beaches like Goa which are still left from the eyes of tourists. Very few people know about Varkala but once you visit this place, you will not be able to forget the beauty here. Surrounded by high cliffs, red rocks, and long coconut trees can make anyone visit this place again. Varkala is also famous for its 900 years old Janardhana Temple which is always crowded with many local devotees. Seeing the amazing confluence of mountain and sea, you will be lost in its eyes. Seeing the water flowing through the mountains is something else. Varkala is also famous for the 2 thousand-year-old Janardhana Swamy Temple which is an important pilgrimage place for Vaishnavites in India. To get to this temple of Vishnu, you have to climb a lot of steps. The temple is located near the Papanasam beach where the holy water is believed to wash away sins.
* * * * * * * * * *
7. Kovalam Beach, Kerala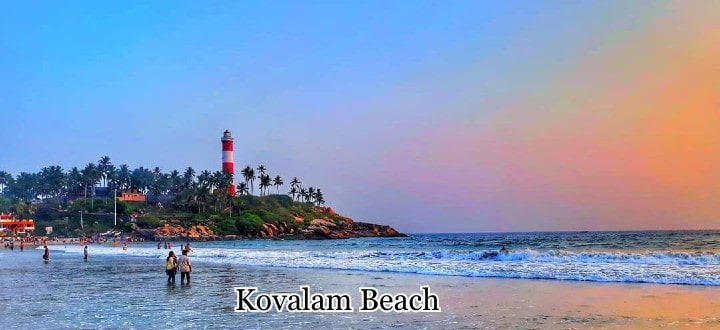 One of the longest Beaches of India, Kovalam Beach is famous for its scenic views, white sandy banks, and a stunning view of Kerala Lighthouse Tower from the beach that pulls many tourists in every season of the year.
* * * * * * * * * *
8. Ganapatipule Beach Maharashtra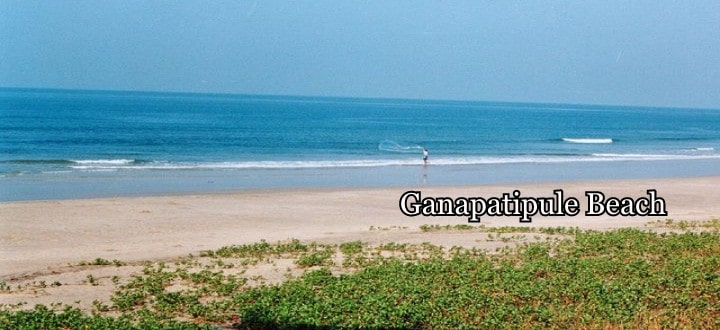 Ganpatipule can be visited en route to Ratnagiri and is just 35 kilometers from the famous Jaigad Fort, which offers a panoramic view of the sea and villages from the cliff. This beach is an ideal place to relax, where you can come with your family or friends. A tiny coastal town in Maharashtra, Ganpatipule has a grand beach, one of the most spectacular on the Konkan coast. The natural beauty of the place impresses visitors a lot. The clear blue water here serves to thrill the tourists from far away.
* * * * * * * * * *
9. Tarkarli Beach, Maharashtra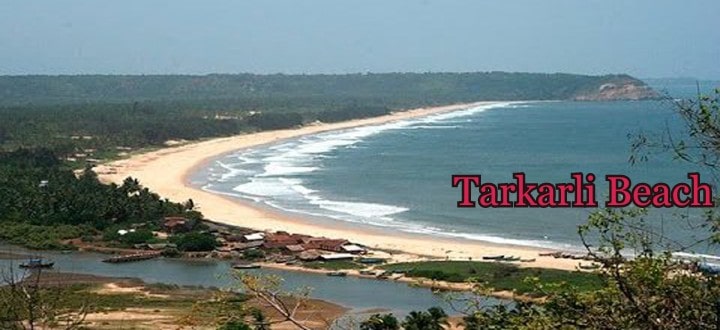 Tarkarli Beach is among the most visited places in the city. The coast spread far and wide serves to impress the tourists to a great extent. This beach is known for its calm surroundings and clear water. On this beach, apart from walking, you can enjoy various water sports. The vegetation spread around the beach makes this site spectacular. You can come here with your family or friends for a comfortable experience.
* * * * * * * * * *
10. Juhu Beach Mumbai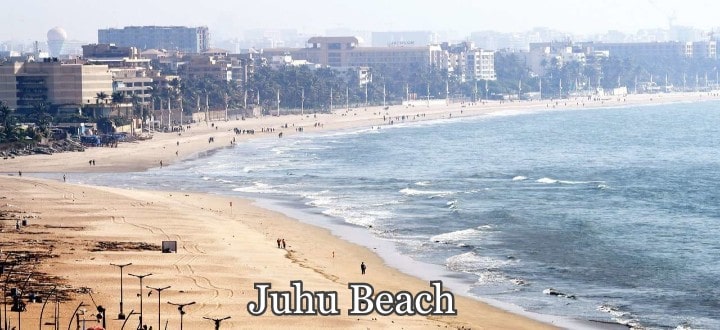 One of the most popular beaches of India, Juhu beach in Mumbai is always crowded with many youngsters and as well as elderly peoples too. Many of the romantic Bollywood scenes has shot here that make this beach the most frequented beaches in Mumbai.
* * * * * * * * * *
11. Marina Beach, Chennai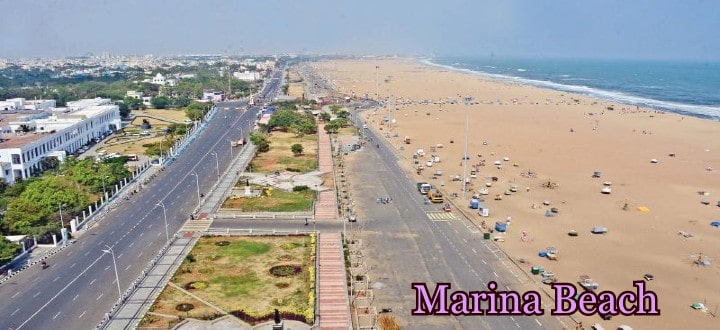 Situated on the South-Eastern coasts of India, Marina Beach in Chennai is one of the longest beaches of India. The beach is famous for its grassy walkways that pull many locals and foreign tourists in every season.
* * * * * * * * * *
12. Radhanagar Beach, Andaman & Nicobar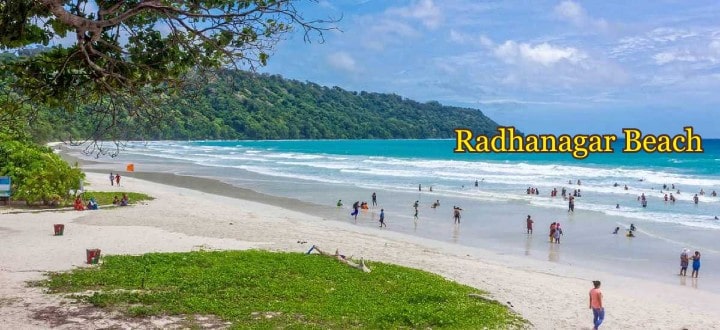 Andaman is an Indian union territory, and you can explore the best of the scuba diving experience and sea walk in India at Andaman, There are lots of tourists that are exploring Andaman every year. Andaman's photogenic Radhanagar Beach on the west coast of Havelock Island is considered to be more popular among tourists. This is a photogenic beach where model photoshoot is also performed. With white shiny sand, turquoise water, and lush green vegetation, this beach is considered ideal for a leisurely stroll. Here you can enjoy the thrill of snorkeling, fishing, swimming and scuba diving. Radhanagar Beach at Havelock Island has been consistently rated as the best beach in India, and there is a reason for it. The turquoise-colored water and the white sand beach is something that can be experienced.
* * * * * * * * * *
13. Ram Krishna Beach Vizag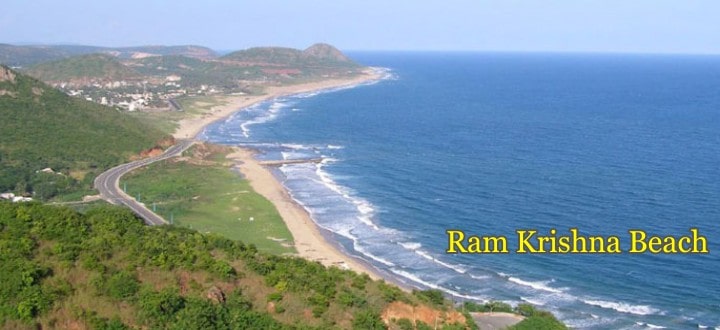 Despite being a busy coastal city with Indian Navy headquarters and India's busy harbor, Vizag or Visakhapatnam has plenty to offer a tourist for relaxation like beautiful beaches, lakes, gardens and museums. The Ram Krishna Beach is ideal for spending evenings where one can stroll down the beach or along pedestrian tracks that lead to beautiful parks and open-air restaurants. Also visit Kailasagiri, a well-maintained hilltop that offers a panoramic view of the sea. The pristine beach is a favorite picnic spot among locals and is frequented by tourists all year long. If you have the choice to explore India's eastern coast, the RK Beach is a no miss. While the Rama Krishna Beach is not safe for swimming, there are many attractions and activities to keep visitors busy
* * * * * * * * * *
14. Gopalpur Beach, Odisha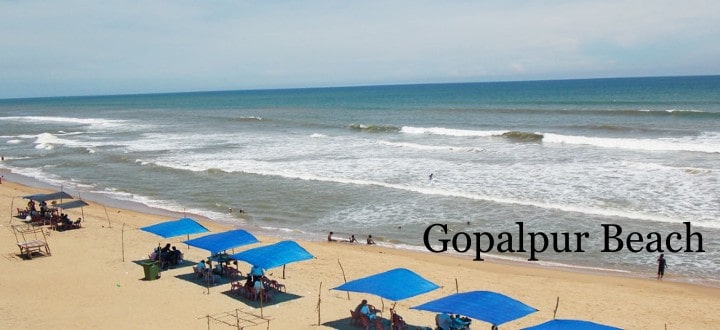 The picture-perfect Gopalpur Beach with a vast stretch of golden sand and a combination of blue water with the horizon is not very popular among tourists. It is possibly one of the best beaches in the country, this beach located in Odisha. But adventure sports like gems, scuba diving, and water surfing, paddle boating, and rowing can also be enjoyed.
* * * * * * * * * *
15. Chandipur Beach, Balasore
Chandipur Beach is a very beautiful beach in Odisha. To its east comes the Bay of Bengal and to the west the area of ??Mayurbhanj, while at its northern end is the district of Medinipur in Bengal. Even if you keep walking for several kilometers inside the sea, the water will not go above the knees. Its special feature sets it apart from other beaches. Tourists come from far and wide to enjoy it.