Falaknuma Palace-Chowmahalla Palace Tour Package
About the Tour Package
Book Now
Betsbus.in provided Half-Day Falaknuma Palace Tour Package along with Chowmahalla Palace and Golconda Sound & Light Show.
Follow the tour itinerary to get an idea of this tour package:
Note: In this package, NO-LUNCH BREAK possible once the trip is started. So, all passengers are requested to have their lunch before starting for this trip.
Book Now

Fare Details
We got you! We have designed more for you
Book Now
TSTDC
A/C Mini-Bus
Service : 121


Itinerary
Take a glimpse of how we planned your tour
Book Now
Itinerary of TSTDC :
12.00 PM
The bus Departs from Paryatak Bhavan, Begumpet
12.15 PM
The bus Departs from Hotel Taj Krishna.
12.30 PM
The bus Departs from Hotel Golconda (Masab Tank).
12.45 PM
The bus Departs from Basheerbagh.
1.30 PM
Arrival at the magnificent residence of Nawab: Chowmahalla Palace
1.30 PM to 2.30 PM
Paying a visit and exploring Chowmahalla Palace.
3.00 PM to 4.30 PM
Visiting Taj Falaknuma Palace.
5.45 PM to 7.00 PM
Making presence at Golconda Sound and Light Show.
7.00 PM
Dropping back at Paryatak Bhavan, Begumpet

Note: No lunch or refreshments are included in this package. Hence, passengers are requested to have lunch before the tour starts.

Note: Child age between 5-12 years.
Book Now



Bus Timings
Hurry up! There is no next bus
Book Now
Timings of TSTDC
We provided multiple Pick-up points...
A/C Mini-Bus (Service 1)
S.No
Boarding Point
Time
1

Begumpet


GMC Balayogi Paryatak Bhavan
12:00 PM
2

Banjara Hills


Hotel Taj Krishna
12:15 PM
3

Masab Tank


Near Hotel Golconda
12:30 PM
4

Basheerbagh


CRO Basheerbagh
12:45 PM
A/C Mini-Bus (Service 1)
S.No
Dropping Point
Time
1

Begumpet


GMC Balayogi Paryatak Bhavan
07:30 PM
Book Now

Important Information
Please Read Below Information
Online Transactions in bestbus are 100% Safe & Secure and your transaction details were encrypted.
A ticket confirmation email and SMS is sent along with the Driver/ Tour operator contact numbers.
Passengers are requested to contact Tour operator or Driver for boarding point or vehicle-related queries.
Passengers are requested to cooperate with the tour operator if the vehicle is delayed due to traffic or any other reasons.
Passengers are requested to reach the boarding point 10mins before the departure time.
Passengers are requested to take care of their belongings throughout the trip.
Bestbus.in is only an Online Booking Agency, we are not tour operators.
Bestbus will not be responsible for any natural or social calamities.
Note 1: Lunch will not be provided in this package, passengers are requested to have lunch before the tour starts.
Note 2: The above listed will not be covered in sightseeing if the tourist spots are closed due to Bandh/strikes/floods/Holidays any other reason.
Note 3: In case of less bookings (less than 60% occupancy in the bus), service get cancelled and full amount will be refunded or postponed to any other date without any charges.
Note 4: One/Two days before Tourism Department will request Falaknuma Palace permissions for visiting. Incase Palace officials will accepts, then only trip will be conducted otherwise Postpone/Service cancellation without ant charges.

Places Covered
Check out the places you are going to explore!
Book Now
Places Covered By TSTDC :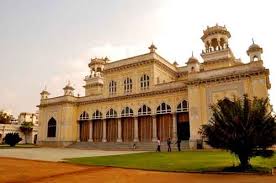 Chowmahalla Palace Hyderabad Chowmahalla Palace is a royal residence of the Nizams of Hyderabad state. It was the seat of the Asaf Jahi line and was the official living arrangement of the Nizams of Hyderabad while they governed their state. The royal residence was worked by Nizam Salabat Jung. The royal residence remains the property of Barkat Ali Khan Mukarram Jah, the beneficiary of the Nizams. In Ur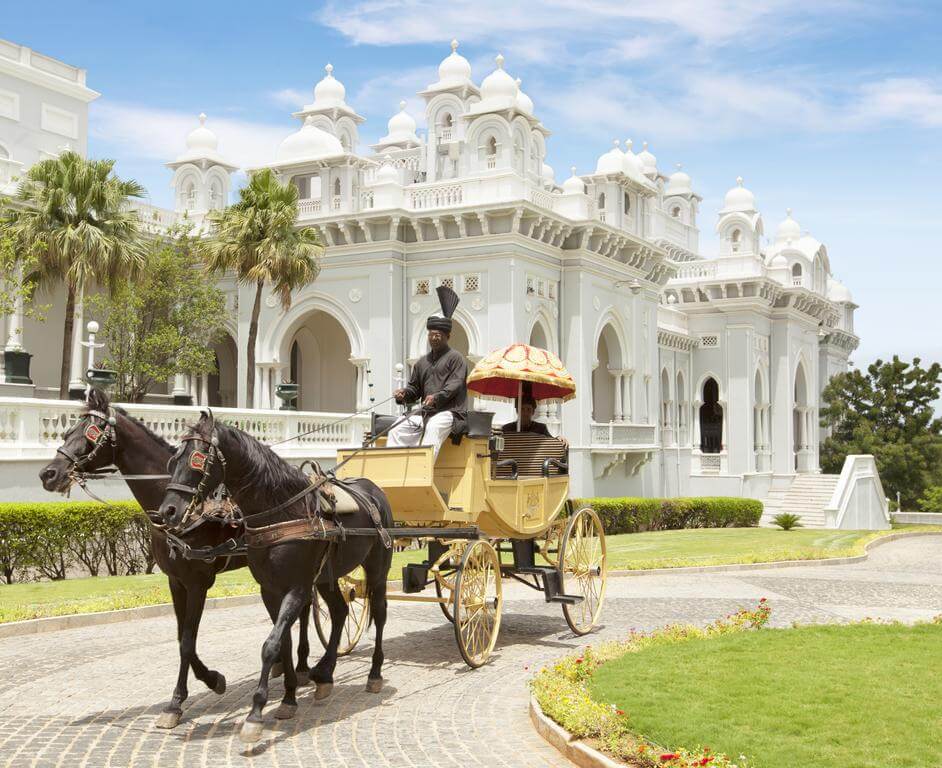 Falaknuma is a castle in Hyderabad, Telangana, India. It had a place with the Paigah family, and was later claimed by the Nizam of Hyderabad.It is on a 32-section of land (13 ha) region in Falaknuma, 5 km from Charminar. It was worked by Nawab Vikar-ul-Umra - Prime Minister of Hyderabad and the uncle &brother-in-law of the VIth Nizam.Falak-numa signifies "Like the Sky" or "Reflection of the Sky" in Urdu.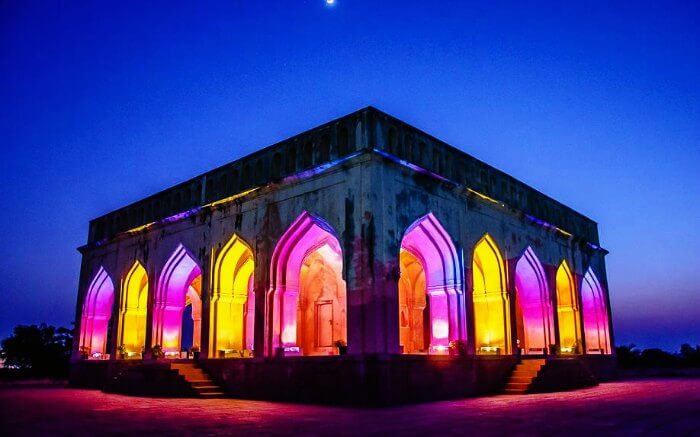 The Sound & Light Show at Warangal fort reveals the history of great rulers of Kakatiya dynasty with span of 50 minutes duration in Telugu and English. The colourful laser lighting system accompanied by excellent sound track. The show mesmerizes the audience and takes backs to the history Kakatiyas.
Book Now

Package Details
Check out the Package Details...!
Book Now
Taj Falaknuma Palace Hyderabad was built in the combination of Italian and Tudor architecture and took nine years to complete the construction and furnish the entire palace. It was expanded in 32 acres of land and located near 5km distance to Charminar.
Taj Falaknuma Palace sits atop a hill 2000 feet above Hyderabad and showcases a blend of Italian and Tudor architecture. This palace truly gives a glimpse into the extravagant lives of the royals, with its teak and mahogany furniture, chandeliers and the larger-than-life dining tables. The Heritage Walk takes you on a guided tour around the property and introduces you to the history of Hyderabad. The architectural designs combined with the stories and facts behind each object there is sure to leave you fascinated.
After it was occupied by the Nizam, he used the palace as the residence to royal guests and later it was open to the public from 2000. The main attractions of Falaknuma palace are the state reception room, Ballroom, entrance of the palace, the dining hall with royal furnishings.
Chowmahalla Palace is the palace of four places derived from the Farsi language. Chowmahalla Palace in Hyderabad belongs to the heirs of the Asaf Jahi Dynasty who once ruled the state. The palace construction was begun in the late 18th century and took decades to complete it. We can see different styles of architecture emerged in the design of the palace. Chowmahalla actually was built in 45 acres of land but only 12 acres of land remain today.
Khilwat Mubarak, Northern and Southern courtyards, Clock Tower, Council Hall, Roshan Bangla remained as the main attractions of the Chowmahalla Palace.
About Golconda Sound & Light Show
Sound and Light Show hosted in Golconda fort will take you back to the historical days of Golconda virtually with the live show and with visual effects. The show takes place around particular timings on different days in Telugu, Hindi, and English. Get indulged in the royal history Golconda fort by watching Golconda sound and light show.

Similar Packages
Find Similar Packages