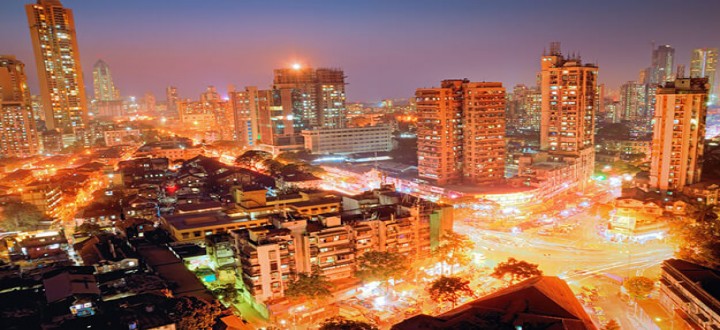 Best Places to Visit in Mumbai
Explore the splendid joy of travelling!
10 Best Places to Visit In Mumbai
Mumbai City Tour
Mumbai (formerly called Bombay) is a densely populated city on India's west coast. A financial center, it's India's largest city. On the Mumbai Harbour waterfront stands the iconic Gateway of India stone arch, built by the British Raj in 1924. Offshore, nearby Elephanta Island holds ancient cave temples dedicated to the Hindu god Shiva. The city's also famous as the heart of the Bollywood film industry. Mumbai has emerged as the most attractive Indian city in the Asia Pacific region
The name Mumbai has been derived from the name of the local Goddess called Mumbadevi. Mumbai has a rich past and cultural heritage. Originally it was a group of seven islands and was a part of the Maurya Empire during the reign of Ashoka. Later it came under the control of many dynasties till the Silharas wrested the region in the early 800s.
In 1343 AD, the region was captured by the Kingdom of Gujarat in whose possession it remained for the next 200 years. In 1543, the isles came under the control of the Portuguese and in 1661 ceded as dowry to Catherine de Braganza upon her marriage to Charles II of England. Charles II, in turn, leased the island to the British East India Company who named it Bombay.
Seeing the growth of the city, the British East India Company transferred their headquarters from Surat to Bombay. The foremost railway line in India was built between Thane and Bombay (VT) in 1861. After India achieved independence in 1947, Bombay presidency was reconstructed into Bombay state. In 1960, it became the capital of the newly created state of Maharashtra.
Presently, it is the global financial, information, entertainment and industrial hub and has become the largest city of South Asia.
1. Gateway of India
2. Siddhivinayak Temple
3. Haji Ali
4. Elephanta Caves
5. Mahalaxmi Temple
6. Jehangir Art Gallery
7. Prince of Wales Museum
8. Nehru Planetarium
9. Hanging Garden
10. Sanjay Gandhi National Park
1. Gateway of India Mumbai
The Gateway of India is an arch monument built during the 20th century in Bombay, India. The monument was erected to commemorate the landing of King George V and Queen Mary at Apollo Bunder on their visit to India in 1911.
Built-in Indo-Saracenic style, the foundation stone for the Gateway of India was laid on 31 March 1911. The structure is an arch made of basalt, 26 meters (85 feet) high. The final design of George Wittet was sanctioned in 1914 and the construction of the monument was completed in 1924. The Gateway was later used as a symbolic ceremonial entrance to India for Viceroys and the new Governors of Bombay. It served to allow entry and access to India.
The Gateway of India is located on the waterfront at the Apollo Bunder area at the end of Chhatrapati Shivaji Marg in South Mumbai and overlooks the Arabian Sea. The monument has also been referred to as the Taj Mahal of Mumbai and is the city's top tourist attraction.
The Gateway is made using both Hindu and Muslim architectural styles. Being considered as the Taj Mahal of Mumbai, the Gateway of India is one of the top tourist attractions of Mumbai.
Gateway of India Fare Details: No Entry Fee
Gateway of India Timings: Monday to Saturday: 12:00 A.M To 11:59 P.M
2. Shree Siddhivinayak Temple Mumbai :
Dedicated to Lord Ganesha, the popularity and faith of devotees in the Siddhivinayak Temple in Mumbai is inexpressible. Built-in 1801, the architecture of the temple portrays elegance and beauty. The ambiance and the atmosphere of the temple will take you into an everlasting world – a blessed world of peace and faith. Each day over 25,000 devotees visit the sacred temple and is even frequently visited by celebrities.
Attractions of Siddhivinayak Temple:
'Phool Gali' (flower street) – There are a lot of shops selling flowers, prasad and puja thalis.
The temple is overcrowded on Tuesdays as the day is dedicated to Lord Ganesha and special aartis (prayers) are offered.
The idol of Ganesha is made of a single, 2.5 feet tall black stone. On either side of the main idol, there are idols of 'Goddess Riddhi' and 'Goddess Siddhi'.
The 'Gabhara' or shelter covering the idol is octagonal in shape, beautifully designed and plated with gold.
The view inside the 'mandap' or the temple hall is eternally divine. The wooden doors of the temple have also been carved with excellence and have eight different postures of the deity.
It is believed that all your wishes come true if you pray here. You will find devotees walking barefoot to the temple to attain the esteemed blessings of the Lord.
Siddhivinayak Temple:
| Days | Timings |
| --- | --- |
| Monday | 5:30 am – 9:50 pm |
| Tuesday | 3:15 am – 12:30 am |
| Wednesday | 5:30 am – 9:50 pm |
| Thursday | 5:30 am – 9:50 pm |
| Friday | 5:30 am – 9:50 pm |
| Saturday | 5:30 am – 9:50 pm |
| Sunday | 5:30 am – 9:50 pm |
Siddhivinayak Temple Entry Fee: No Entry Fee ( Free)
3. Haji Ali Dargah Mumbai
Floating like a sacred mirage off the coast, this Indo-Islamic shrine located on an offshore inlet is a striking sight. Built-in the 19th century, it contains the tomb of the Muslim Saint Pir Haji Ali Shah Bukhari. Legend has it that Haji Ali died while on a pilgrimage to Mecca and his casket miraculously floated back to this spot.
It's only possible to visit the shrine at low tide, via a long causeway (check tide times locally). Thousands of pilgrims, especially on Thursday and Friday (when there may be qawwali; devotional singing), cross it daily, many donating to beggars who line the way. Sadly, parts of the shrine are in a poor state, damaged by storms and the saline air, though a renovation plan exists. It's visited by people of all faiths.
People from all parts of the world without restrictions of caste, creed, and religion visit the Dargah to offer their prayers and for the fulfillment of their wishes by the blessings of the Saint Pir Haji Ali Shah Bukhari (R.A.). Some pray for wealth, others for health, children, marriages, etc. have their wishes being granted at all times.
Haji Ali Dargah Timings: Monday to Sunday: 5:30 am – 10:00 pm
Entry Fee: No entry fee
4. Elephanta Caves Mumbai
Located close to the concrete jungle of Mumbai, the Elephanta Caves lie just off the coast of the Arabian Sea, situated at a 10 km radius from the bustling metropolis. One of the oldest rock-cut structures in the country, the Elephanta Caves are the perfect expressions of archaic Indian art associated to the cult of Lord Shiva. Primarily believed to be the abode of Lord Shiva, the Elephanta Caves are an epitome of Hindu Cave culture and are a unique testimony to a bygone civilization. The origins of the Elephanta Caves have been debated time and again, though the sculptures and the art speak volumes about the time from when they could have been popular-6th or the 8th century. The island on which the caves are built was originally known as Gharapuri, and the Portuguese retitled it as Elephanta Island when they discovered a large stone structure of an Elephant on the island. The temple was primarily built for the worship of Lord Shiva and 'Shivaism'. However, it is believed that the Portuguese destroyed many other structures and even used the idols of Hindu Gods within the caves for target practice. Today, the site is a popular tourist hot-spot in Mumbai.
Elephanta Caves Timings: Tuesday to Sunday: Open from 9 A.M. to 5 P.M. (Closed on Monday)
Elephanta Caves Mumbai Entry Fee Details:
| Visitors | Fare |
| --- | --- |
| For Indian | Rs. 10/- |
| For Afghanistan, Bangladesh, Bhutan, Maldives, Myanmar, Nepal, Pakistan, Sri Lanka, Thailand citizens, other foreign citizens | Rs. 250/- |
| For Village entry | Rs. 10/- |
| For Toy Train ride | Rs. 10/- |
| No fee for Still Camera | Nill |
| For Video Camera | Rs. 25/- |
5. Mahalakshmi Temple in Mumbai
Mahalaxmi Temple is an ancient temple dedicated to honoring 'Goddess Mahalaxmi' who is also known as the 'Goddess of Wealth'. This beautiful temple is situated in Mumbai and was constructed in 1785. Many devotees visit this temple to offer their prayers to Goddess Mahalaxmi and the other figures of the magnificent Hindu Goddesses like Mahakali and Mahasaraswati, adorned with stunning jewelry. This well-known temple is a hot destination for tourists and pilgrims all over the world. A large number of believers throng this temple on Fridays. During the days of 'Navaratri' festival, thousands of devotees flock this shrine to witness the celebrations. Within the temple vicinity, there are various shops selling flowers, flower garlands, and other 'puja' accessories. The Mahalaxmi temple is not only constructed exquisitely but is also sited beside the ocean, which is visually appealing. One can retreat from the busy city and visit this heavenly temple to experience repose and serenity.
Mahalakshmi Temple Timings: Visiting Hours - 6:00 AM - 10:00 PM
Daily Aarti Schedule of Mahalaxmi Temple :
If you wish to attend the worship rituals at the Mahalaxmi Temple, you can refer to the ritual schedule as follows:-
Main Aarti: 7:00 AM to 7:20 AM, 7.30 PM to 7.50 PM
Dhoopaarti: 6:30 PM to 6:40 PM
Shejarti:10:00 PM (at the time of closure)
Mahalakshmi Temple Entry Fee: No entry fee
6. Jehangir Art Gallery in Mumbai
Jehangir Art Gallery is located at Kala Ghoda locality of Mumbai, Maharashtra. Constructed in 1952, this art gallery is the most prestigious and modern venue for Indian artistes in the city. There are four exhibition halls to exhibit the work of art here.
There is a huge rush of artistes in this gallery to show one's works. Many of the artistes have to wait a couple of years to exhibit their works in this gallery. The gallery has huge media attention and coverage.
Donated by Cawasji Jehangir, Jehangir Art Gallery it is managed by the Bombay Art Society. The building of the gallery is an enormous beautiful mansion. Jehangir Art Gallery is one of Mumbai's well-known art galleries.
Jehangir Art Gallery Entry Fee: No entry fee
Jehangir Art Gallery Opening and Closing Timings:
Days: Sunday to Monday
Opening Closing Time : 11:00 AM - 7:00 PM
7. Prince Of Wales Museum Mumbai ( Chhatrapati Shivaji Maharaj Vastu Sangrahalaya )
The Prince of Wales Museum, now commonly known as 'Chhatrapati Shivaji Maharaj Vastu Sangrahalaya', was established during the early 20th century. This museum is considered as a heritage structure in Mumbai because of its admirable architecture. The Prince of Wales Museum is one of the most significant museums in India. The museum showcases several collections of ancient artworks, sculptures, and artifacts in its galleries. After the inception of the renovation project in 2008, many new galleries were opened, which contained artworks of Hindu God Krishna, textiles and Indian traditional costumes. Regular exhibitions and lectures on several topics are also held inside the museum. The Prince of Wales Museum was originally a building that was used as a military hospital for the Children's Welfare Exhibitions. Tourists from the world all over, make it a point to visit this magnificent heritage building and to explore the various ancient artifacts preserved within this museum.
Prince Of Wales Museum Fare Details:
| CATEGORY ( VISITORS ) | TICKET PRICE |
| --- | --- |
| Children (5 to 12 years old) | Rs.20/- |
| Indian Adult (Above 12 years) | Rs.70/- |
| Foreign Adult (Above 12 years) | Rs.400/- |
| School Students (Up to 10th Standard) | Rs.20/- |
| College Students (With Valid ID Proof) | Rs.35/- |
| Senior Citizens (Above 60 years) | Rs.50/- |
| Defense Personnel & Group of 25people | Rs.50/- |
| Mobile Phone with Camera | Rs.40/- |
| Still Camera | Rs.200/- |
| Non-Professional Video Camera | Rs. 1,000/- |
Prince Of Wales Museum Opening and Closing Timings :
Closed on Monday
Tuesday to Sunday: 10:15 am – 6:00 pm
8. Nehru Planetarium in Mumbai
Nehru Planetarium is a huge dome-shaped building which was established in 1977 and inaugurated by the then Prime Minister, Indira Gandhi. Located in Worli in Mumbai, the building was designed by J.M. Kadri, one of the prominent architects of India. The building later became immensely popular among the astronomers, space aspirants and children in Mumbai. Moreover, the planetarium is a center of logical study for students and amateur scientists of astronomy and space science. Planetarium also witnesses various discussions and lectures based on astronomical and cosmological events like science quiz contest, Astro painting, Astro poetry and science elocution for science-inspired students. Since its establishment, it has conducted thirty-one astronomical presentations and boasts of being the only astronomical center which includes both the concert and the movie auditorium as it is conducting shows on a daily basis. Read on to know more about Nehru Planetarium and its major attractions.
Planetarium Shows
The special Planetarium's sky shows are like the quintessential treat for everyone who visits the place and strives for an incomparable learning experience. 'Tryst and Destiny' was the first show and it outlined the stars and constellations like they had donned the sky on the night of 14 August 1947. The second show "Mahatma – The Eternal Light' recreated the celestial configuration as on 2nd October 1869, the day Mahatma Gandhi was born combining it with other historic events from his life.
Since the very beginning, these shows have been luring the visitors and so far over 30 unique shows have been featured there. Currently, 'The Wonders of the Universe' and 'Invaders of Mars' are being featured there.
Nehru Planetarium Opening and Closing Timings:
Closed on Monday
Tuesday to Sunday: 10:30 am – 5:00 pm
Nehru Planetarium Fare Details :
For Adults: Rs.60/-
For Childs (4 to 12 yrs): Rs.40/-
9. Hanging Garden Mumbai
Hanging Gardens is a popular tourist destination situated in Mumbai. This terraced garden was built in 1880 and later renovated in 1921. The Hanging Gardens is dedicated to its barrister Pherozeshah Mehta, which is why these gardens are also known as Pherozeshah Mehta Garden. This renowned garden located on the Malabar Hills is known for its splendid green vegetation and animal shaped hedges, which is an interesting sight for anyone who visits this spot. Adding to the garden's beauty is the comforting view of the vast Arabian Sea. Watching the sunset from the Hanging Gardens would provide you with an experience worth remembering a lifetime. One interesting fact about Hanging Gardens is that it is built on a water reservoir, which provides fresh drinking water to the locals who live nearby. Varieties of plants and flowers can be seen within these beautiful gardens. A large number of tourists to Mumbai never forget to visit the beautiful Hanging Gardens.
Built on a water reservoir, the Hanging Gardens covers a vast area, which is chockfull with green bushes, trees, and animal-shaped topiaries. The striking flower, clock situated in the center of the garden, serves as the main attraction for all tourists. The garden is maintained perfectly. The 'Old woman's shoe' or the 'Boot House' is completely made from stone, which is also a very interesting feature and a favorite among children.
Hanging Garden Visiting Timings: Monday to Sunday: 5 am to 9 pm (open all days)
Hanging Garden Fare Details: Entry Fee: Free
10. Sanjay Gandhi National Park Mumbai
Previously known as 'Borivali National Park', Sanjay Gandhi National Park was established in 1969. This park comprises of a large protected area and extends over 104 square km. Located in northernmost suburban Mumbai, Sanjay Gandhi National Park is one of the most visited parks in the Bollywood City aka Mumbai. The park enthralls its visitors with its mesmerizing fauna and flora. The presence of 2400-year-old Kanheri caves, carved out from rock cliffs, in its premises is another added attraction of this place. The fascinating greenery of this park allows great moments of meditation and self-reflection. The gorgeous sight of the lakes, river, valleys, and hills provide an in-depth therapeutic effect on the body and mind. Above all this, the fact that this place is a national park means that it also houses fauna that cannot be considered overtly common. In order to gather more information about this park, scroll further.
Sanjay Gandhi National Park was called 'Krishnagiri Park' before 1947 and 'Borivali National Park' from 1947 to 1990. The park was spread over a relatively smaller area of 20.26 square km till 1969, post which it was increased to 104 square km by acquiring various forest reserves adjoining the park. The name was changed again in 1990 and it was rechristened 'Sanjay Gandhi National Park' in the memory of Sanjay Gandhi (son of ex-Prime Minister Indira Gandhi), who was killed in a 1980 plane crash. The entrance fee for an adult or a child is Rs. 10/- and the park stays open from 9:00 AM to 5:30 PM from Tuesday to Sunday. Safari starts from 9:00 AM to 1:00 PM. The nearest airport is Santa Cruz situated at a distance of 16 km while the nearest railway station is located at a distance of 40 km. Vihar Lake and Tulsi Lake in the vicinity of the park are the 2 largest lakes in the city and are also popular tourist destinationsin Mumbai.
Sanjay Gandhi National Park Famous For:
Wildlife, adventure, nature and safaris, photography.
Sanjay Gandhi National Park Fare Details
Entry Fee: Entry fee for Per Person: 36 Rs.
Entry for Tiger & Lion safaris : 61 Rs. (30 minute)
Sanjay Gandhi National Park Opening and Closing Timings :
Visiting Hours - 7:30 AM - 6:30 PM ( Monday to Sunday )
Closed on Monday
How To Reach Mumbai City Tour:
By Air
Mumbai is reachable through several flights. Mumbai's international terminal is the Sahar International Airport, renamed as Chatrapati Sivaji International Airport. Located 30 km from the centre of the city, Nariman Point and 4 km from the domestic terminal of Santa Cruz, this airport operates 24X7. Most of the international flights ply from here and connect it with various national and international destinations. Both the domestic and international terminals have amenities like exchange bureaus, duty-free shops, restaurants, left luggage sheds and tourist offices. Hotel bookings, car rentals, and pre-paid taxis are also available at the terminals. The terminals are 5 km apart and separated by the landside. They can be reached through the regular shuttle bus service operating between the two of them. One can also avail pick up services from the airport by hotels you booked. The domestic airport is finely linked with most parts of Western and Southern India.
By Rail
The headquarters of both Western and Central Railways lies in Mumbai. This city is connected massively via railways. Railways are said to be the lifeline of Mumbai. Super-fast trains and passenger trains connect the city with all prominent towns of India like Delhi, Calcutta, Chennai, Hyderabad, and Bangalore. The two railway stations in Mumbai are Chattrapati Shivaji Terminus (CST) previously known Victoria Terminus, and Bombay Central Station. Central railways serve eastern and southern parts, wherein western railways operate towards to the north from Church gate and central stations. Other local railway stations are Dadar, Church gate and Kurla. It's always advisable to make bookings in advance to escape last minute hassle.
By Road
Mumbai is perfectly connected by a road network to the rest of India. The city's public bus system BEST is one of the most efficient bus systems. Interstate roadways buses and private operators run luxury coach buses as well as rickety buses. It has a vast fleet of black-and-yellow taxis too. The fine roads of this city connect you to all big and small towns and tourist centers in the state of Maharashtra- Pune (163 km), Aurangabad (392 km), Nashik (184 km), Mahabaleshwar (239 km) and to the towns and cities of the neighboring states- Goa - Panaji (597 km), Gujarat - Ahmadabad (545 km) and Vadodara - (706 km ) and Telangana, (432 km) and Andhra Pradesh.