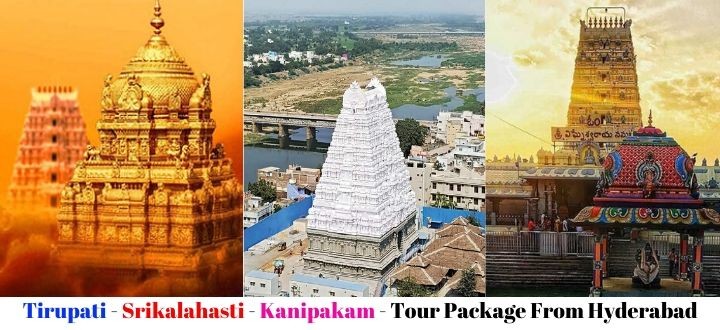 Tirupati Srikalahasti Kanipakam Tour Package From Hyderabad
Devotion towards Lord Venkateswara brings you tranquillity
Tirupati Srikalahasti Kanipakam Tour Package From Hyderabad
Tirupati Balaji Mandir
Tirupati Mandir that abodes Lord Venkateswara Swamy as the main deity was self-manifested on the hills of Venkatadri dating back to five thousand years. Lord Venkateswara, the incarnation of Lord Vishnu has many names as such Kaliyuga Daivam- to save mankind from the sins and troubles in Kaliyugam. Lord Venkateswara is devotedly called with many names by his devotees as Balaji, Edukondala Swamy, Govinda, Srinivasa and he is the busiest god and richest god in the entire world to be available to his devotees to make their wishes true and receive their prayers in any time and any season.
Tirumala, the uphill of town Tirupati where the main temple exists can be reached on foot taking steps constructed for the devotees who wish to have Tirupati Balaji Darshan by Kalinadaka. People visit from downhill to Tirumala by walking as per their avows to Lord Venkateswara. People also come by bus and cars along the way and reach Tirupati Balaji Mandir on the top of the hill. The entire Tirumala has some energy that attracts all the devotees with positivity and any sick person who visits here will be so active and positive throughout their trip in Tirupati.
Tirupati Darshan Package
Devotees from all over the world swarm to Tirupati Devasthanam throughout the year to admit their avows and prayers to Lord Venkateswara, the Kaliyuga Daivam. To visit Tirumala Temple on weekdays may not be possible for busy people like working but want to travel on ease and without any hassle want to take Tirupati Balaji Darshan. Bestbus has created a curated online platform offering a hassle-free journey to the devotees who want to visit Tirupati on Weekends. Weekend Package to Tirupati is a great package offering various facilities, Tirupati sightseeing and Tirumala VIP Darshan included with two laddu Prasadam for every tourist booking Tirupati Darshan Package.
Places Covered Tirupati - Srikalahasti - Kanipakam Tour Packages:
Our travel experts have designed the package specifically offering various facilities to the devotees including Tirupati Sightseeing, these are the places covered in the package:
Tirupati: Tirupati is the first point of a visit when devotees are taken to Tirupati Devasthanam. Tirupati is the most beautiful place where Govindaraja Swamy Temple resides here. The temple architecture of the temple attracts devotees and priests perform pooja to the main deity Govindaraja Swamy.
Tirumala: Tirumala is the uphill of Tirupati where Lord Venkateswara resides listening to his devotees' prayers his entire time as his beloved god all mankind in Kaliyuga, hence he is called Kaliyuga Daivam. Tourists booking the package are offered Tirumala VIP Darshan
Tiruchanoor: Goddess Padmavathi, beloved consort of Lord Venkateswara resides here in Tiruchanoor temple. Devotees offer prayers to Goddess Padmavati and participate in Seva programs like kumkum Archana, Vastralankarana.
Sri Kalahasti: Srikalahasti is very popular in South India as Rahu-Ketu Kshetra and devotees flock here to get rid of their dark times in their Zodiac signs. Lord Shiva temple in Kalahasti is very sacred and Linga inside the temple is made of white marble attracting devotees.
Kanipakam: Kanipakam is famous for residing Siddhi Vinayaka Temple and the lord here is self-manifested to listen to his devotees' prayers and make them true and hence he is known as Varasidhi Vinayaka Swamy. The idol of Vinayaka Swamy is made of black marble and looks divine.
Srinivasa Mangapuram: 12 km away from Tirupati, you visit Srinivasa Mangapuram, the village resides Kalyana Venkateswara Swamy Temple as Lord Venkateswara with his consorts spent his newly wedding life for six months in his villages, hence the newly wedded couple visit the temple to start their beginning.
Kapila Theertham: Lord Kapileswara Swamy is the residing God of Kapila Temple during Dravidian culture in the Seshachalam hills as you can witness a beautiful stream of water into the temple and is famous for performing rituals on auspicious day Mukkoti Purnima.
How to Book Tirupati Srikalahasti Kanipakam Tour Package:
We keep the process simple, Go to website
Click on Tour Packages
Click on Tirupati-Kanipakam-Srikalahasti tour package
Check your requirements
And give your details, number of persons
Go for payment and check out
You are done! Ticket confirmations are sent through an email and SMS
Benefits of Booking Tirupati Darshan Package on Bestbus.in
Easy and hassle-free journey to Tirupati on weekends
VIP Darshan tickets along with two laddu Prasadam are provided to each tourist
The best accommodation is provided to the tourists in Tirupati
No queue at Kalyanakatta and other tourist spots in Tirupati
Affordably priced package to Tirupati in Volvo AC buses or Mercedes Benz
Bestbus.in is an online travel platform offering the Best Tour Packages to the tourists to Tirupati round the week and throughout the year with the best facilities to satisfy the customers. We are partnered up with Telangana Tourism to provide more facilities and increase more packages to Tirupati from Hyderabad.