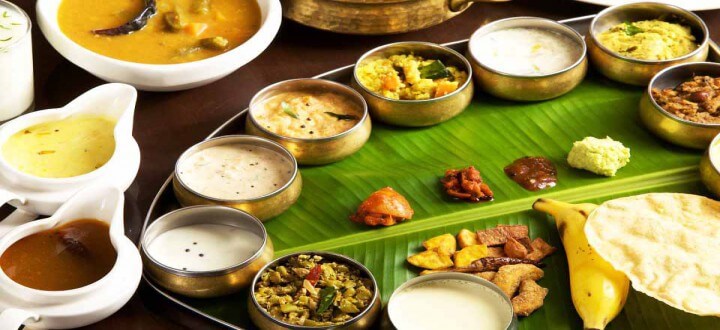 Delicious Food Inside Ramoji Film City
Indulge in the delicacies around the world in Ramoji!
Book Now
Mouth-watering Delicacies at Ramoji Film City to Binge on!
Leaving you spellbound with the tasty delicacies, Ramoji Film City has a wide range of food options from different parts of the world. There are many thematic Indian Restaurants with cinematic and unique backdrops making a perfect ambiance for the food bloggers to take pictures for their insta posts. Put your diet aside for a few days and munch on the lip-smacking delights served in veg and non-veg menus.
Visiting Ramoji Film City without tasting the delicious food is an incomplete tour. Restaurants in Ramoji Film City hire experienced chefs around the world popular in making their signature dishes and famous traditional dishes of Indian cuisine. Some of the best lip-smacking food you can always try in Ramoji Film City without any hesitation is our traditional authentic food Natu Kodi Pulusu made with aromatic Indian spices, Punjabi food buttery chicken, Fish fry and also for vegetarians you also have a quite decent menu like rasam, paneer masala, Gutti Vankaya served with deliciously cooked jeera long-grained rice.
Indulging in the tastes of varieties of food available in the locales of Delicious Food inside Ramoji Film City and here are some of the best thematic Restaurants that serve fancy delicacies along with authentic dishes from different parts of India.
Telangana Food Fiesta
If you are a fan of Telangana spicy food, then it's your turn to take part in the Telangana Food Festival happening every year during the anniversary of Telangana Statehood organized by various themed Restaurants serving you the most authentic delicacies of Telangana, you can relish the taste of Spicy Natu Kodi Pulusu, Miriyala Rasam, Ragi Sankati, Spicy Mutton fry which are special flavors of Telangana Cuisine.
Nizam Delights@Sitara Luxury Hotel
Who would love to leave Hyderabad without tasting popular Dum Biryani? Ramoji Film City is all set to celebrate the Nizan Nights with the authentic Mughal dishes and entertaining the guests with Qawwali music and Gazals in the Mughal themed sets is perfect to enjoy the evening tasting the rich Mughal food. Try some authentic kebabs, dum biryani and relish your taste buds at the end with Kubani ka Meetha to satisfy your sweet tooth.
Chanakya Restaurant
Chanakya Restaurant has experienced international chefs who customized the tasty delicacies authenticated from different parts of South India that make you spellbound and enjoy the delicious food in the contemporary ambiance filled with rustic colors that bring the perfect vintage look of Medieval period to the Restaurant. Try the signature dishes to relish your taste buds and Bon Appetit!
Alampana Restaurant
Alampana Restaurant in Ramoji Film City serves you the delicious food of famous Hyderabad like the famous Hyderabadi Biryani, Kubani ka Meetha, and Pathar ka gosh are some of the famous dishes of Hyderabad delicacies that attract people for a second treat.
Along with relishing the fancy cuisines of Restaurants in the locales of film city, you can also hop into various stalls that make Chatpata chat with lip-smacking spices that satisfy your tangy cravings and after continuous munching on rich heavy foods and chats splash your tummy with some cool smoothies of which mango creamy smoothie and Punjabi lassi are the two beverages you can try always without any doubt!
Book Now
Book Now