EcoZone at Ramoji Film City
They make the world look beautiful with its flying colours
EcoZone - Butterfly Park at Ramoji Film City
While you are surfing through Bird Park you will be enchanted to see the vibrant colored winged beauties flying around in the lap of nature! Ramoji Film City in Hyderabad has arranged a beautiful home to a huge variety of butterflies. This park is designed very close to nature and receives appreciation from everyone for creating such an aesthetic Butterfly Park.
These fabulous winged beauties exhibit their elegance in wandering throughout the park in infinite colors. You can take a glimpse of butterflies sucking the sweet nectar from the fragrant flowers in the park and in the approach to catch the wings these butterflies flutter away making u disappointed. Butterfly Park is taken care of in very highly manner by the authority and every nook and corner of the park is highly maintained to make the butterflies feel they are the inhabitants of this park for so long.
This park is treasured with an infinite number of butterflies belonged to every region on the globe and it is a goal for every kid to chase butterflies and take the wings color. If you carry a camera, then you will end up capturing all these exceptional butterflies flying in such exotic environments surrounded by beautiful waterfalls!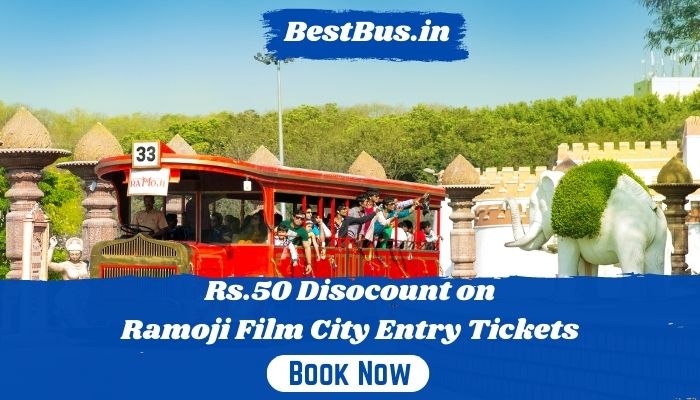 Ramoji Film City confers you with infinite splashes of these colorful winged little beauties and as soon as your children glance these beautiful butterflies, then start singing the butterfly rhymes they studied in their schools. This is the best chance to educate your children about the importance of nature and butterflies to save our environment. Visiting Butterfly Park in Ramoji Film City is always worth visiting.
Book Ramoji Entry Tickets with Discount
Do not forget to carry cameras and capture some amazing pictures when a charismatic butterfly lays on your shoulder to take part in your gallery and social media. Inside the park, you can view many panels provided information about these butterflies to educate the visitors.
Plan a visit to glance these amazing butterflies with your children to have awe feeling seeing the huge variety of butterflies all over the world in a place. Ramoji Film City Tour always ensures you to take plenty of splendid memories to cherish for a lifetime with your family!