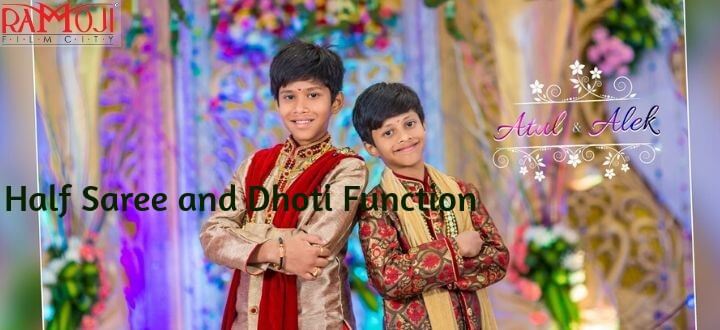 Half Saree and Dhoti Function at Ramoji Film City
Celebrate the new phase of life!
Book Now
Dhoti and Half Saree Ceremony @ Ramoji Film City
Dhoti Ceremony is an important event of our South Indian tradition as the young boys of the family hit their young age 11, they are about to enter into their adulthood, so, to celebrate this officially his maternal uncle or aunt will be offering them silk dhoti and celebrate this as a symbol of the boy's journey into adulthood and bright future. This is a traditional event of our Telugu family which they called it 'Panchalu' and celebrate the event in grandeur with family and friends.
Half Saree ceremony which is also known as Puberty ceremony or Ritu Kala Ceremony is an old Hindu tradition ceremony celebrated in the event of their young daughter hit her puberty and offered saree for the first time and allowing her to enter her young age mentally and physically. This is an important event celebrated in Hindu tradition as the young girl enters her age she wears half-saree in the event and her first saree is offered by her uncle or grandparents and the event is celebrated by gathering relatives and friends offering the girl with lots of gifts and sarees.
In modern days it became a celebration and people are looking to celebrate in grandeur as this is a celebration once in a lifetime to celebrate their young girl and boy's new phase of life. Ramoji Film City is the best location for celebrating Half-saree and Dhoti ceremonies in a great way with the themed sets, locations, customized locations, beautiful variety of gardens and many luxurious hotels you can choose any theme, location, set and hotel as per your budget and wish and we take care of everything. Half-saree and Dhotis ceremonies in Ramoji Film City are the frequently celebrated events with spectacular arrangements and themes.
Ramoji Film City is a place for celebrations, you can choose from the wide range of royal, modern and luxury themes available or you can even express your ideas with our management team our professional event planners take care of everything you wish and display the mirror image of your dreams in the event. Our aim is to make the customer happy and make the celebration a festival, you can also choose from the opulent gardens like Mughal, charisma, Japanese and themed parks if you have a great number of guests. Our creative event planners will help you find out the best-customized locations suitable for both girl and boy ceremonies with all the decorations you wish and we make it for you. Also, luxurious hotels like Sitara and Dolphins have the luxurious banquet halls to celebrate your events and they have tailor-made services for events including a great stay for the guests too.
Every ceremony or an event success is always celebrated with great food, Ramoji group has spectacular catering teams who are professional in offering international national cuisines with a variety of delicacies to make your event more special with welcome drinks and serve pan in the end. This occasion is very special to you to make your daughter and son's adulthood age ceremonies and we are with you to make it in an opulent way, contact us for some amazing suggestions to celebrate your event at Ramoji Film City.
Book Now
Book Now