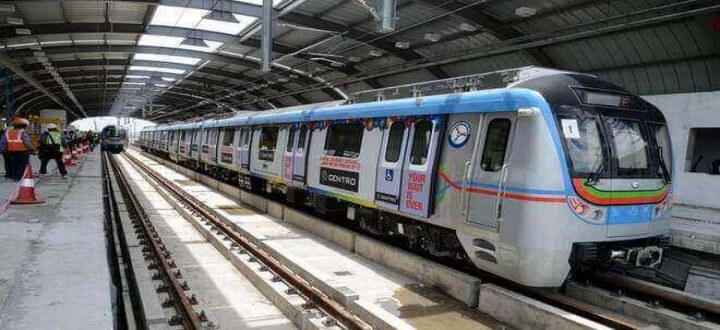 Hyderabad Metro Train Timings
Hyderabad Metro Train Timings
Need of Metro Rail for Hyderabad City:
Greater Hyderabad is a mega city that covers 625 sq. km. of municipal corporation area and 6,852 sq. km. of metropolitan area. It is fast emerging as the hub of IT/ITES, Biotech, Pharma and Tourism sectors. Its strategic geographical location, multilingual and cosmopolitan culture, tremendous growth potential and investment-friendly economic policy are all making it an attractive destination for corporates, entrepreneurs, academicians and homemakers alike.
Hyderabad Metro Train Timings:
The metro train timings as far now the metro train services will run between 6:30 a.m to 10:30 p.m, later based on the commuters count the trains frequnecy will be increased. If you want to travel from Nagole to beyond any of the metro station, you can take the token once and you have to get down at Ameerpet metro station, change the platform and get into the metro train which is running from Ameerpet to Miyapur. Currently for every 7 minutes one train is running from Nagole to Ameerpet and Ameerpet to Miyapur in Peak hours where as in non peak hours for every 8 minutes one train is running. First check the timings from Nagole to Ameerpet and Check the timings again from Ameerpet to Miyapur. The below menioned metro train timings are calculated based on the frequency and number of trips announced by HMRL. All the metro trains will run with (+) or (-) 2 minutes difference.
Miyapur To Ameerpet Hyderabad Metro Train Timings:
| Miyapur | JNTU | KPHB | Kukatpally | Bala nagar | Moosapet | Bharat nagar | Erragadda | ESI | SR Nagar | Ameerpet |
| --- | --- | --- | --- | --- | --- | --- | --- | --- | --- | --- |
| 6:32:00 | 6:35:00 | 6:37:00 | 6:40:00 | 6:42:00 | 6:44:00 | 6:46:00 | 6:48:00 | 6:50:00 | 6:52:00 | 6:54:00 |
| 6:40:00 | 6:43:00 | 6:45:00 | 6:48:00 | 6:50:00 | 6:52:00 | 6:54:00 | 6:56:00 | 6:58:00 | 7:00:00 | 7:02:00 |
| 6:48:00 | 6:51:00 | 6:53:00 | 6:56:00 | 6:58:00 | 7:00:00 | 7:02:00 | 7:04:00 | 7:06:00 | 7:08:00 | 7:10:00 |
| 6:56:00 | 6:59:00 | 7:01:00 | 7:04:00 | 7:06:00 | 7:08:00 | 7:10:00 | 7:12:00 | 7:14:00 | 7:16:00 | 7:18:00 |
| 7:04:00 | 7:07:00 | 7:09:00 | 7:12:00 | 7:14:00 | 7:16:00 | 7:18:00 | 7:20:00 | 7:22:00 | 7:24:00 | 7:26:00 |
| 7:12:00 | 7:15:00 | 7:17:00 | 7:20:00 | 7:22:00 | 7:24:00 | 7:26:00 | 7:28:00 | 7:30:00 | 7:32:00 | 7:34:00 |
| 7:20:00 | 7:23:00 | 7:25:00 | 7:28:00 | 7:30:00 | 7:32:00 | 7:34:00 | 7:36:00 | 7:38:00 | 7:40:00 | 7:42:00 |
| 7:28:00 | 7:31:00 | 7:33:00 | 7:36:00 | 7:38:00 | 7:40:00 | 7:42:00 | 7:44:00 | 7:46:00 | 7:48:00 | 7:50:00 |
| 7:36:00 | 7:39:00 | 7:41:00 | 7:44:00 | 7:46:00 | 7:48:00 | 7:50:00 | 7:52:00 | 7:54:00 | 7:56:00 | 7:58:00 |
| 7:44:00 | 7:47:00 | 7:49:00 | 7:52:00 | 7:54:00 | 7:56:00 | 7:58:00 | 8:00:00 | 8:02:00 | 8:04:00 | 8:06:00 |
| 7:52:00 | 7:55:00 | 7:57:00 | 8:00:00 | 8:02:00 | 8:04:00 | 8:06:00 | 8:08:00 | 8:10:00 | 8:12:00 | 8:14:00 |
| 8:00:00 | 8:03:00 | 8:05:00 | 8:08:00 | 8:10:00 | 8:12:00 | 8:14:00 | 8:16:00 | 8:18:00 | 8:20:00 | 8:22:00 |
| 8:06:30 | 8:09:30 | 8:11:30 | 8:14:30 | 8:16:30 | 8:18:30 | 8:20:30 | 8:22:30 | 8:24:30 | 8:26:30 | 8:28:30 |
| 8:13:00 | 8:16:00 | 8:18:00 | 8:21:00 | 8:23:00 | 8:25:00 | 8:27:00 | 8:29:00 | 8:31:00 | 8:33:00 | 8:35:00 |
| 8:19:30 | 8:22:30 | 8:24:30 | 8:27:30 | 8:29:30 | 8:31:30 | 8:33:30 | 8:35:30 | 8:37:30 | 8:39:30 | 8:41:30 |
| 8:26:00 | 8:29:00 | 8:31:00 | 8:34:00 | 8:36:00 | 8:38:00 | 8:40:00 | 8:42:00 | 8:44:00 | 8:46:00 | 8:48:00 |
| 8:32:30 | 8:35:30 | 8:37:30 | 8:40:30 | 8:42:30 | 8:44:30 | 8:46:30 | 8:48:30 | 8:50:30 | 8:52:30 | 8:54:30 |
| 8:39:00 | 8:42:00 | 8:44:00 | 8:47:00 | 8:49:00 | 8:51:00 | 8:53:00 | 8:55:00 | 8:57:00 | 8:59:00 | 9:01:00 |
| 8:45:30 | 8:48:30 | 8:50:30 | 8:53:30 | 8:55:30 | 8:57:30 | 8:59:30 | 9:01:30 | 9:03:30 | 9:05:30 | 9:07:30 |
| 8:52:00 | 8:55:00 | 8:57:00 | 9:00:00 | 9:02:00 | 9:04:00 | 9:06:00 | 9:08:00 | 9:10:00 | 9:12:00 | 9:14:00 |
| 8:58:30 | 9:01:30 | 9:03:30 | 9:06:30 | 9:08:30 | 9:10:30 | 9:12:30 | 9:14:30 | 9:16:30 | 9:18:30 | 9:20:30 |
| 9:05:00 | 9:08:00 | 9:10:00 | 9:13:00 | 9:15:00 | 9:17:00 | 9:19:00 | 9:21:00 | 9:23:00 | 9:25:00 | 9:27:00 |
| 9:11:30 | 9:14:30 | 9:16:30 | 9:19:30 | 9:21:30 | 9:23:30 | 9:25:30 | 9:27:30 | 9:29:30 | 9:31:30 | 9:33:30 |
| 9:18:00 | 9:21:00 | 9:23:00 | 9:26:00 | 9:28:00 | 9:30:00 | 9:32:00 | 9:34:00 | 9:36:00 | 9:38:00 | 9:40:00 |
| 9:24:30 | 9:27:30 | 9:29:30 | 9:32:30 | 9:34:30 | 9:36:30 | 9:38:30 | 9:40:30 | 9:42:30 | 9:44:30 | 9:46:30 |
| 9:31:00 | 9:34:00 | 9:36:00 | 9:39:00 | 9:41:00 | 9:43:00 | 9:45:00 | 9:47:00 | 9:49:00 | 9:51:00 | 9:53:00 |
| 9:37:30 | 9:40:30 | 9:42:30 | 9:45:30 | 9:47:30 | 9:49:30 | 9:51:30 | 9:53:30 | 9:55:30 | 9:57:30 | 9:59:30 |
| 9:44:00 | 9:47:00 | 9:49:00 | 9:52:00 | 9:54:00 | 9:56:00 | 9:58:00 | 10:00:00 | 10:02:00 | 10:04:00 | 10:06:00 |
| 9:50:30 | 9:53:30 | 9:55:30 | 9:58:30 | 10:00:30 | 10:02:30 | 10:04:30 | 10:06:30 | 10:08:30 | 10:10:30 | 10:12:30 |
| 9:57:00 | 10:00:00 | 10:02:00 | 10:05:00 | 10:07:00 | 10:09:00 | 10:11:00 | 10:13:00 | 10:15:00 | 10:17:00 | 10:19:00 |
| 10:03:30 | 10:06:30 | 10:08:30 | 10:11:30 | 10:13:30 | 10:15:30 | 10:17:30 | 10:19:30 | 10:21:30 | 10:23:30 | 10:25:30 |
| 10:10:00 | 10:13:00 | 10:15:00 | 10:18:00 | 10:20:00 | 10:22:00 | 10:24:00 | 10:26:00 | 10:28:00 | 10:30:00 | 10:32:00 |
| 10:16:30 | 10:19:30 | 10:21:30 | 10:24:30 | 10:26:30 | 10:28:30 | 10:30:30 | 10:32:30 | 10:34:30 | 10:36:30 | 10:38:30 |
| 10:23:00 | 10:26:00 | 10:28:00 | 10:31:00 | 10:33:00 | 10:35:00 | 10:37:00 | 10:39:00 | 10:41:00 | 10:43:00 | 10:45:00 |
| 10:29:30 | 10:32:30 | 10:34:30 | 10:37:30 | 10:39:30 | 10:41:30 | 10:43:30 | 10:45:30 | 10:47:30 | 10:49:30 | 10:51:30 |
| 10:36:00 | 10:39:00 | 10:41:00 | 10:44:00 | 10:46:00 | 10:48:00 | 10:50:00 | 10:52:00 | 10:54:00 | 10:56:00 | 10:58:00 |
| 10:42:30 | 10:45:30 | 10:47:30 | 10:50:30 | 10:52:30 | 10:54:30 | 10:56:30 | 10:58:30 | 11:00:30 | 11:02:30 | 11:04:30 |
| 10:49:00 | 10:52:00 | 10:54:00 | 10:57:00 | 10:59:00 | 11:01:00 | 11:03:00 | 11:05:00 | 11:07:00 | 11:09:00 | 11:11:00 |
| 10:55:30 | 10:58:30 | 11:00:30 | 11:03:30 | 11:05:30 | 11:07:30 | 11:09:30 | 11:11:30 | 11:13:30 | 11:15:30 | 11:17:30 |
| 11:02:00 | 11:05:00 | 11:07:00 | 11:10:00 | 11:12:00 | 11:14:00 | 11:16:00 | 11:18:00 | 11:20:00 | 11:22:00 | 11:24:00 |
| 11:10:00 | 11:13:00 | 11:15:00 | 11:18:00 | 11:20:00 | 11:22:00 | 11:24:00 | 11:26:00 | 11:28:00 | 11:30:00 | 11:32:00 |
| 11:18:00 | 11:21:00 | 11:23:00 | 11:26:00 | 11:28:00 | 11:30:00 | 11:32:00 | 11:34:00 | 11:36:00 | 11:38:00 | 11:40:00 |
| 11:26:00 | 11:29:00 | 11:31:00 | 11:34:00 | 11:36:00 | 11:38:00 | 11:40:00 | 11:42:00 | 11:44:00 | 11:46:00 | 11:48:00 |
| 11:34:00 | 11:37:00 | 11:39:00 | 11:42:00 | 11:44:00 | 11:46:00 | 11:48:00 | 11:50:00 | 11:52:00 | 11:54:00 | 11:56:00 |
| 11:42:00 | 11:45:00 | 11:47:00 | 11:50:00 | 11:52:00 | 11:54:00 | 11:56:00 | 11:58:00 | 12:00:00 | 12:02:00 | 12:04:00 |
| 11:50:00 | 11:53:00 | 11:55:00 | 11:58:00 | 12:00:00 | 12:02:00 | 12:04:00 | 12:06:00 | 12:08:00 | 12:10:00 | 12:12:00 |
| 11:58:00 | 12:01:00 | 12:03:00 | 12:06:00 | 12:08:00 | 12:10:00 | 12:12:00 | 12:14:00 | 12:16:00 | 12:18:00 | 12:20:00 |
| 12:06:00 | 12:09:00 | 12:11:00 | 12:14:00 | 12:16:00 | 12:18:00 | 12:20:00 | 12:22:00 | 12:24:00 | 12:26:00 | 12:28:00 |
| 12:14:00 | 12:17:00 | 12:19:00 | 12:22:00 | 12:24:00 | 12:26:00 | 12:28:00 | 12:30:00 | 12:32:00 | 12:34:00 | 12:36:00 |
| 12:22:00 | 12:25:00 | 12:27:00 | 12:30:00 | 12:32:00 | 12:34:00 | 12:36:00 | 12:38:00 | 12:40:00 | 12:42:00 | 12:44:00 |
| 12:30:00 | 12:33:00 | 12:35:00 | 12:38:00 | 12:40:00 | 12:42:00 | 12:44:00 | 12:46:00 | 12:48:00 | 12:50:00 | 12:52:00 |
| 12:38:00 | 12:41:00 | 12:43:00 | 12:46:00 | 12:48:00 | 12:50:00 | 12:52:00 | 12:54:00 | 12:56:00 | 12:58:00 | 13:00:00 |
| 12:46:00 | 12:49:00 | 12:51:00 | 12:54:00 | 12:56:00 | 12:58:00 | 13:00:00 | 13:02:00 | 13:04:00 | 13:06:00 | 13:08:00 |
| 12:54:00 | 12:57:00 | 12:59:00 | 13:02:00 | 13:04:00 | 13:06:00 | 13:08:00 | 13:10:00 | 13:12:00 | 13:14:00 | 13:16:00 |
| 13:02:00 | 13:05:00 | 13:07:00 | 13:10:00 | 13:12:00 | 13:14:00 | 13:16:00 | 13:18:00 | 13:20:00 | 13:22:00 | 13:24:00 |
| 13:10:00 | 13:13:00 | 13:15:00 | 13:18:00 | 13:20:00 | 13:22:00 | 13:24:00 | 13:26:00 | 13:28:00 | 13:30:00 | 13:32:00 |
| 13:18:00 | 13:21:00 | 13:23:00 | 13:26:00 | 13:28:00 | 13:30:00 | 13:32:00 | 13:34:00 | 13:36:00 | 13:38:00 | 13:40:00 |
| 13:26:00 | 13:29:00 | 13:31:00 | 13:34:00 | 13:36:00 | 13:38:00 | 13:40:00 | 13:42:00 | 13:44:00 | 13:46:00 | 13:48:00 |
| 13:34:00 | 13:37:00 | 13:39:00 | 13:42:00 | 13:44:00 | 13:46:00 | 13:48:00 | 13:50:00 | 13:52:00 | 13:54:00 | 13:56:00 |
| 13:42:00 | 13:45:00 | 13:47:00 | 13:50:00 | 13:52:00 | 13:54:00 | 13:56:00 | 13:58:00 | 14:00:00 | 14:02:00 | 14:04:00 |
| 13:50:00 | 13:53:00 | 13:55:00 | 13:58:00 | 14:00:00 | 14:02:00 | 14:04:00 | 14:06:00 | 14:08:00 | 14:10:00 | 14:12:00 |
| 13:58:00 | 14:01:00 | 14:03:00 | 14:06:00 | 14:08:00 | 14:10:00 | 14:12:00 | 14:14:00 | 14:16:00 | 14:18:00 | 14:20:00 |
| 14:06:00 | 14:09:00 | 14:11:00 | 14:14:00 | 14:16:00 | 14:18:00 | 14:20:00 | 14:22:00 | 14:24:00 | 14:26:00 | 14:28:00 |
| 14:14:00 | 14:17:00 | 14:19:00 | 14:22:00 | 14:24:00 | 14:26:00 | 14:28:00 | 14:30:00 | 14:32:00 | 14:34:00 | 14:36:00 |
| 14:22:00 | 14:25:00 | 14:27:00 | 14:30:00 | 14:32:00 | 14:34:00 | 14:36:00 | 14:38:00 | 14:40:00 | 14:42:00 | 14:44:00 |
| 14:30:00 | 14:33:00 | 14:35:00 | 14:38:00 | 14:40:00 | 14:42:00 | 14:44:00 | 14:46:00 | 14:48:00 | 14:50:00 | 14:52:00 |
| 14:38:00 | 14:41:00 | 14:43:00 | 14:46:00 | 14:48:00 | 14:50:00 | 14:52:00 | 14:54:00 | 14:56:00 | 14:58:00 | 15:00:00 |
| 14:46:00 | 14:49:00 | 14:51:00 | 14:54:00 | 14:56:00 | 14:58:00 | 15:00:00 | 15:02:00 | 15:04:00 | 15:06:00 | 15:08:00 |
| 14:54:00 | 14:57:00 | 14:59:00 | 15:02:00 | 15:04:00 | 15:06:00 | 15:08:00 | 15:10:00 | 15:12:00 | 15:14:00 | 15:16:00 |
| 15:02:00 | 15:05:00 | 15:07:00 | 15:10:00 | 15:12:00 | 15:14:00 | 15:16:00 | 15:18:00 | 15:20:00 | 15:22:00 | 15:24:00 |
| 15:10:00 | 15:13:00 | 15:15:00 | 15:18:00 | 15:20:00 | 15:22:00 | 15:24:00 | 15:26:00 | 15:28:00 | 15:30:00 | 15:32:00 |
| 15:18:00 | 15:21:00 | 15:23:00 | 15:26:00 | 15:28:00 | 15:30:00 | 15:32:00 | 15:34:00 | 15:36:00 | 15:38:00 | 15:40:00 |
| 15:26:00 | 15:29:00 | 15:31:00 | 15:34:00 | 15:36:00 | 15:38:00 | 15:40:00 | 15:42:00 | 15:44:00 | 15:46:00 | 15:48:00 |
| 15:34:00 | 15:37:00 | 15:39:00 | 15:42:00 | 15:44:00 | 15:46:00 | 15:48:00 | 15:50:00 | 15:52:00 | 15:54:00 | 15:56:00 |
| 15:42:00 | 15:45:00 | 15:47:00 | 15:50:00 | 15:52:00 | 15:54:00 | 15:56:00 | 15:58:00 | 16:00:00 | 16:02:00 | 16:04:00 |
| 15:50:00 | 15:53:00 | 15:55:00 | 15:58:00 | 16:00:00 | 16:02:00 | 16:04:00 | 16:06:00 | 16:08:00 | 16:10:00 | 16:12:00 |
| 15:58:00 | 16:01:00 | 16:03:00 | 16:06:00 | 16:08:00 | 16:10:00 | 16:12:00 | 16:14:00 | 16:16:00 | 16:18:00 | 16:20:00 |
| 16:06:00 | 16:09:00 | 16:11:00 | 16:14:00 | 16:16:00 | 16:18:00 | 16:20:00 | 16:22:00 | 16:24:00 | 16:26:00 | 16:28:00 |
| 16:14:00 | 16:17:00 | 16:19:00 | 16:22:00 | 16:24:00 | 16:26:00 | 16:28:00 | 16:30:00 | 16:32:00 | 16:34:00 | 16:36:00 |
| 16:22:00 | 16:25:00 | 16:27:00 | 16:30:00 | 16:32:00 | 16:34:00 | 16:36:00 | 16:38:00 | 16:40:00 | 16:42:00 | 16:44:00 |
| 16:30:00 | 16:33:00 | 16:35:00 | 16:38:00 | 16:40:00 | 16:42:00 | 16:44:00 | 16:46:00 | 16:48:00 | 16:50:00 | 16:52:00 |
| 16:38:00 | 16:41:00 | 16:43:00 | 16:46:00 | 16:48:00 | 16:50:00 | 16:52:00 | 16:54:00 | 16:56:00 | 16:58:00 | 17:00:00 |
| 16:46:00 | 16:49:00 | 16:51:00 | 16:54:00 | 16:56:00 | 16:58:00 | 17:00:00 | 17:02:00 | 17:04:00 | 17:06:00 | 17:08:00 |
| 16:54:00 | 16:57:00 | 16:59:00 | 17:02:00 | 17:04:00 | 17:06:00 | 17:08:00 | 17:10:00 | 17:12:00 | 17:14:00 | 17:16:00 |
| 17:02:00 | 17:05:00 | 17:07:00 | 17:10:00 | 17:12:00 | 17:14:00 | 17:16:00 | 17:18:00 | 17:20:00 | 17:22:00 | 17:24:00 |
| 17:08:30 | 17:11:30 | 17:13:30 | 17:16:30 | 17:18:30 | 17:20:30 | 17:22:30 | 17:24:30 | 17:26:30 | 17:28:30 | 17:30:30 |
| 17:15:00 | 17:18:00 | 17:20:00 | 17:23:00 | 17:25:00 | 17:27:00 | 17:29:00 | 17:31:00 | 17:33:00 | 17:35:00 | 17:37:00 |
| 17:21:30 | 17:24:30 | 17:26:30 | 17:29:30 | 17:31:30 | 17:33:30 | 17:35:30 | 17:37:30 | 17:39:30 | 17:41:30 | 17:43:30 |
| 17:28:00 | 17:31:00 | 17:33:00 | 17:36:00 | 17:38:00 | 17:40:00 | 17:42:00 | 17:44:00 | 17:46:00 | 17:48:00 | 17:50:00 |
| 17:34:30 | 17:37:30 | 17:39:30 | 17:42:30 | 17:44:30 | 17:46:30 | 17:48:30 | 17:50:30 | 17:52:30 | 17:54:30 | 17:56:30 |
| 17:41:00 | 17:44:00 | 17:46:00 | 17:49:00 | 17:51:00 | 17:53:00 | 17:55:00 | 17:57:00 | 17:59:00 | 18:01:00 | 18:03:00 |
| 17:47:30 | 17:50:30 | 17:52:30 | 17:55:30 | 17:57:30 | 17:59:30 | 18:01:30 | 18:03:30 | 18:05:30 | 18:07:30 | 18:09:30 |
| 17:54:00 | 17:57:00 | 17:59:00 | 18:02:00 | 18:04:00 | 18:06:00 | 18:08:00 | 18:10:00 | 18:12:00 | 18:14:00 | 18:16:00 |
| 18:00:30 | 18:03:30 | 18:05:30 | 18:08:30 | 18:10:30 | 18:12:30 | 18:14:30 | 18:16:30 | 18:18:30 | 18:20:30 | 18:22:30 |
| 18:07:00 | 18:10:00 | 18:12:00 | 18:15:00 | 18:17:00 | 18:19:00 | 18:21:00 | 18:23:00 | 18:25:00 | 18:27:00 | 18:29:00 |
| 18:13:30 | 18:16:30 | 18:18:30 | 18:21:30 | 18:23:30 | 18:25:30 | 18:27:30 | 18:29:30 | 18:31:30 | 18:33:30 | 18:35:30 |
| 18:20:00 | 18:23:00 | 18:25:00 | 18:28:00 | 18:30:00 | 18:32:00 | 18:34:00 | 18:36:00 | 18:38:00 | 18:40:00 | 18:42:00 |
| 18:26:30 | 18:29:30 | 18:31:30 | 18:34:30 | 18:36:30 | 18:38:30 | 18:40:30 | 18:42:30 | 18:44:30 | 18:46:30 | 18:48:30 |
| 18:33:00 | 18:36:00 | 18:38:00 | 18:41:00 | 18:43:00 | 18:45:00 | 18:47:00 | 18:49:00 | 18:51:00 | 18:53:00 | 18:55:00 |
| 18:39:30 | 18:42:30 | 18:44:30 | 18:47:30 | 18:49:30 | 18:51:30 | 18:53:30 | 18:55:30 | 18:57:30 | 18:59:30 | 19:01:30 |
| 18:46:00 | 18:49:00 | 18:51:00 | 18:54:00 | 18:56:00 | 18:58:00 | 19:00:00 | 19:02:00 | 19:04:00 | 19:06:00 | 19:08:00 |
| 18:52:30 | 18:55:30 | 18:57:30 | 19:00:30 | 19:02:30 | 19:04:30 | 19:06:30 | 19:08:30 | 19:10:30 | 19:12:30 | 19:14:30 |
| 18:59:00 | 19:02:00 | 19:04:00 | 19:07:00 | 19:09:00 | 19:11:00 | 19:13:00 | 19:15:00 | 19:17:00 | 19:19:00 | 19:21:00 |
| 19:05:30 | 19:08:30 | 19:10:30 | 19:13:30 | 19:15:30 | 19:17:30 | 19:19:30 | 19:21:30 | 19:23:30 | 19:25:30 | 19:27:30 |
| 19:12:00 | 19:15:00 | 19:17:00 | 19:20:00 | 19:22:00 | 19:24:00 | 19:26:00 | 19:28:00 | 19:30:00 | 19:32:00 | 19:34:00 |
| 19:18:30 | 19:21:30 | 19:23:30 | 19:26:30 | 19:28:30 | 19:30:30 | 19:32:30 | 19:34:30 | 19:36:30 | 19:38:30 | 19:40:30 |
| 19:25:00 | 19:28:00 | 19:30:00 | 19:33:00 | 19:35:00 | 19:37:00 | 19:39:00 | 19:41:00 | 19:43:00 | 19:45:00 | 19:47:00 |
| 19:31:30 | 19:34:30 | 19:36:30 | 19:39:30 | 19:41:30 | 19:43:30 | 19:45:30 | 19:47:30 | 19:49:30 | 19:51:30 | 19:53:30 |
| 19:38:00 | 19:41:00 | 19:43:00 | 19:46:00 | 19:48:00 | 19:50:00 | 19:52:00 | 19:54:00 | 19:56:00 | 19:58:00 | 20:00:00 |
| 19:44:30 | 19:47:30 | 19:49:30 | 19:52:30 | 19:54:30 | 19:56:30 | 19:58:30 | 20:00:30 | 20:02:30 | 20:04:30 | 20:06:30 |
| 19:51:00 | 19:54:00 | 19:56:00 | 19:59:00 | 20:01:00 | 20:03:00 | 20:05:00 | 20:07:00 | 20:09:00 | 20:11:00 | 20:13:00 |
| 19:57:30 | 20:00:30 | 20:02:30 | 20:05:30 | 20:07:30 | 20:09:30 | 20:11:30 | 20:13:30 | 20:15:30 | 20:17:30 | 20:19:30 |
| 20:04:00 | 20:07:00 | 20:09:00 | 20:12:00 | 20:14:00 | 20:16:00 | 20:18:00 | 20:20:00 | 20:22:00 | 20:24:00 | 20:26:00 |
| 20:12:00 | 20:15:00 | 20:17:00 | 20:20:00 | 20:22:00 | 20:24:00 | 20:26:00 | 20:28:00 | 20:30:00 | 20:32:00 | 20:34:00 |
| 20:20:00 | 20:23:00 | 20:25:00 | 20:28:00 | 20:30:00 | 20:32:00 | 20:34:00 | 20:36:00 | 20:38:00 | 20:40:00 | 20:42:00 |
| 20:28:00 | 20:31:00 | 20:33:00 | 20:36:00 | 20:38:00 | 20:40:00 | 20:42:00 | 20:44:00 | 20:46:00 | 20:48:00 | 20:50:00 |
| 20:36:00 | 20:39:00 | 20:41:00 | 20:44:00 | 20:46:00 | 20:48:00 | 20:50:00 | 20:52:00 | 20:54:00 | 20:56:00 | 20:58:00 |
| 20:44:00 | 20:47:00 | 20:49:00 | 20:52:00 | 20:54:00 | 20:56:00 | 20:58:00 | 21:00:00 | 21:02:00 | 21:04:00 | 21:06:00 |
| 20:52:00 | 20:55:00 | 20:57:00 | 21:00:00 | 21:02:00 | 21:04:00 | 21:06:00 | 21:08:00 | 21:10:00 | 21:12:00 | 21:14:00 |
| 21:00:00 | 21:03:00 | 21:05:00 | 21:08:00 | 21:10:00 | 21:12:00 | 21:14:00 | 21:16:00 | 21:18:00 | 21:20:00 | 21:22:00 |
| 21:08:00 | 21:11:00 | 21:13:00 | 21:16:00 | 21:18:00 | 21:20:00 | 21:22:00 | 21:24:00 | 21:26:00 | 21:28:00 | 21:30:00 |
| 21:16:00 | 21:19:00 | 21:21:00 | 21:24:00 | 21:26:00 | 21:28:00 | 21:30:00 | 21:32:00 | 21:34:00 | 21:36:00 | 21:38:00 |
| 21:24:00 | 21:27:00 | 21:29:00 | 21:32:00 | 21:34:00 | 21:36:00 | 21:38:00 | 21:40:00 | 21:42:00 | 21:44:00 | 21:46:00 |
| 21:32:00 | 21:35:00 | 21:37:00 | 21:40:00 | 21:42:00 | 21:44:00 | 21:46:00 | 21:48:00 | 21:50:00 | 21:52:00 | 21:54:00 |
| 21:40:00 | 21:43:00 | 21:45:00 | 21:48:00 | 21:50:00 | 21:52:00 | 21:54:00 | 21:56:00 | 21:58:00 | 22:00:00 | 22:02:00 |
| 21:48:00 | 21:51:00 | 21:53:00 | 21:56:00 | 21:58:00 | 22:00:00 | 22:02:00 | 22:04:00 | 22:06:00 | 22:08:00 | 22:10:00 |
| 21:56:00 | 21:59:00 | 22:01:00 | 22:04:00 | 22:06:00 | 22:08:00 | 22:10:00 | 22:12:00 | 22:14:00 | 22:16:00 | 22:18:00 |
| 22:04:00 | 22:07:00 | 22:09:00 | 22:12:00 | 22:14:00 | 22:16:00 | 22:18:00 | 22:20:00 | 22:22:00 | 22:24:00 | 22:26:00 |
| 22:12:00 | 22:15:00 | 22:17:00 | 22:20:00 | 22:22:00 | 22:24:00 | 22:26:00 | 22:28:00 | 22:30:00 | 22:32:00 | 22:34:00 |
| 22:20:00 | 22:23:00 | 22:25:00 | 22:28:00 | 22:30:00 | 22:32:00 | 22:34:00 | 22:36:00 | 22:38:00 | 22:40:00 | 22:42:00 |
| 22:30:00 | 22:33:00 | 22:35:00 | 22:38:00 | 22:40:00 | 22:42:00 | 22:44:00 | 22:46:00 | 22:48:00 | 22:50:00 | 22:52:00 |
Miyapur To Nagole Hyderabad Metro Train Timings:
Ameerpet
Begumpet
PrakashNagar
Rasoolpura
Paradise
ParadeGround
Secunderabad
Mettuguda
Tarnaka
Habsiguda
NGRI
Stadium
Uppal
Nagole
6:32:00
6:36:00
6:39:00
6:41:00
6:43:00
6:45:00
6:48:00
6:51:00
6:53:00
6:56:00
6:58:00
7:00:00
7:02:00
7:04:00
6:40:00
6:44:00
6:47:00
6:49:00
6:51:00
6:53:00
6:56:00
6:59:00
7:01:00
7:04:00
7:06:00
7:08:00
7:10:00
7:12:00
6:48:00
6:52:00
6:55:00
6:57:00
6:59:00
7:01:00
7:04:00
7:07:00
7:09:00
7:12:00
7:14:00
7:16:00
7:18:00
7:20:00
6:56:00
7:00:00
7:03:00
7:05:00
7:07:00
7:09:00
7:12:00
7:15:00
7:17:00
7:20:00
7:22:00
7:24:00
7:26:00
7:28:00
7:04:00
7:08:00
7:11:00
7:13:00
7:15:00
7:17:00
7:20:00
7:23:00
7:25:00
7:28:00
7:30:00
7:32:00
7:34:00
7:36:00
7:12:00
7:16:00
7:19:00
7:21:00
7:23:00
7:25:00
7:28:00
7:31:00
7:33:00
7:36:00
7:38:00
7:40:00
7:42:00
7:44:00
7:20:00
7:24:00
7:27:00
7:29:00
7:31:00
7:33:00
7:36:00
7:39:00
7:41:00
7:44:00
7:46:00
7:48:00
7:50:00
7:52:00
7:28:00
7:32:00
7:35:00
7:37:00
7:39:00
7:41:00
7:44:00
7:47:00
7:49:00
7:52:00
7:54:00
7:56:00
7:58:00
8:00:00
7:36:00
7:40:00
7:43:00
7:45:00
7:47:00
7:49:00
7:52:00
7:55:00
7:57:00
8:00:00
8:02:00
8:04:00
8:06:00
8:08:00
7:44:00
7:48:00
7:51:00
7:53:00
7:55:00
7:57:00
8:00:00
8:03:00
8:05:00
8:08:00
8:10:00
8:12:00
8:14:00
8:16:00
7:52:00
7:56:00
7:59:00
8:01:00
8:03:00
8:05:00
8:08:00
8:11:00
8:13:00
8:16:00
8:18:00
8:20:00
8:22:00
8:24:00
8:00:00
8:04:00
8:07:00
8:09:00
8:11:00
8:13:00
8:16:00
8:19:00
8:21:00
8:24:00
8:26:00
8:28:00
8:30:00
8:32:00
8:06:30
8:10:30
8:13:30
8:15:30
8:17:30
8:19:30
8:22:30
8:25:30
8:27:30
8:30:30
8:32:30
8:34:30
8:36:30
8:38:30
8:13:00
8:17:00
8:20:00
8:22:00
8:24:00
8:26:00
8:29:00
8:32:00
8:34:00
8:37:00
8:39:00
8:41:00
8:43:00
8:45:00
8:19:30
8:23:30
8:26:30
8:28:30
8:30:30
8:32:30
8:35:30
8:38:30
8:40:30
8:43:30
8:45:30
8:47:30
8:49:30
8:51:30
8:26:00
8:30:00
8:33:00
8:35:00
8:37:00
8:39:00
8:42:00
8:45:00
8:47:00
8:50:00
8:52:00
8:54:00
8:56:00
8:58:00
8:32:30
8:36:30
8:39:30
8:41:30
8:43:30
8:45:30
8:48:30
8:51:30
8:53:30
8:56:30
8:58:30
9:00:30
9:02:30
9:04:30
8:39:00
8:43:00
8:46:00
8:48:00
8:50:00
8:52:00
8:55:00
8:58:00
9:00:00
9:03:00
9:05:00
9:07:00
9:09:00
9:11:00
8:45:30
8:49:30
8:52:30
8:54:30
8:56:30
8:58:30
9:01:30
9:04:30
9:06:30
9:09:30
9:11:30
9:13:30
9:15:30
9:17:30
8:52:00
8:56:00
8:59:00
9:01:00
9:03:00
9:05:00
9:08:00
9:11:00
9:13:00
9:16:00
9:18:00
9:20:00
9:22:00
9:24:00
8:58:30
9:02:30
9:05:30
9:07:30
9:09:30
9:11:30
9:14:30
9:17:30
9:19:30
9:22:30
9:24:30
9:26:30
9:28:30
9:30:30
9:05:00
9:09:00
9:12:00
9:14:00
9:16:00
9:18:00
9:21:00
9:24:00
9:26:00
9:29:00
9:31:00
9:33:00
9:35:00
9:37:00
9:11:30
9:15:30
9:18:30
9:20:30
9:22:30
9:24:30
9:27:30
9:30:30
9:32:30
9:35:30
9:37:30
9:39:30
9:41:30
9:43:30
9:18:00
9:22:00
9:25:00
9:27:00
9:29:00
9:31:00
9:34:00
9:37:00
9:39:00
9:42:00
9:44:00
9:46:00
9:48:00
9:50:00
9:24:30
9:28:30
9:31:30
9:33:30
9:35:30
9:37:30
9:40:30
9:43:30
9:45:30
9:48:30
9:50:30
9:52:30
9:54:30
9:56:30
9:31:00
9:35:00
9:38:00
9:40:00
9:42:00
9:44:00
9:47:00
9:50:00
9:52:00
9:55:00
9:57:00
9:59:00
10:01:00
10:03:00
9:37:30
9:41:30
9:44:30
9:46:30
9:48:30
9:50:30
9:53:30
9:56:30
9:58:30
10:01:30
10:03:30
10:05:30
10:07:30
10:09:30
9:44:00
9:48:00
9:51:00
9:53:00
9:55:00
9:57:00
10:00:00
10:03:00
10:05:00
10:08:00
10:10:00
10:12:00
10:14:00
10:16:00
9:50:30
9:54:30
9:57:30
9:59:30
10:01:30
10:03:30
10:06:30
10:09:30
10:11:30
10:14:30
10:16:30
10:18:30
10:20:30
10:22:30
9:57:00
10:01:00
10:04:00
10:06:00
10:08:00
10:10:00
10:13:00
10:16:00
10:18:00
10:21:00
10:23:00
10:25:00
10:27:00
10:29:00
10:03:30
10:07:30
10:10:30
10:12:30
10:14:30
10:16:30
10:19:30
10:22:30
10:24:30
10:27:30
10:29:30
10:31:30
10:33:30
10:35:30
10:10:00
10:14:00
10:17:00
10:19:00
10:21:00
10:23:00
10:26:00
10:29:00
10:31:00
10:34:00
10:36:00
10:38:00
10:40:00
10:42:00
10:16:30
10:20:30
10:23:30
10:25:30
10:27:30
10:29:30
10:32:30
10:35:30
10:37:30
10:40:30
10:42:30
10:44:30
10:46:30
10:48:30
10:23:00
10:27:00
10:30:00
10:32:00
10:34:00
10:36:00
10:39:00
10:42:00
10:44:00
10:47:00
10:49:00
10:51:00
10:53:00
10:55:00
10:29:30
10:33:30
10:36:30
10:38:30
10:40:30
10:42:30
10:45:30
10:48:30
10:50:30
10:53:30
10:55:30
10:57:30
10:59:30
11:01:30
10:36:00
10:40:00
10:43:00
10:45:00
10:47:00
10:49:00
10:52:00
10:55:00
10:57:00
11:00:00
11:02:00
11:04:00
11:06:00
11:08:00
10:42:30
10:46:30
10:49:30
10:51:30
10:53:30
10:55:30
10:58:30
11:01:30
11:03:30
11:06:30
11:08:30
11:10:30
11:12:30
11:14:30
10:49:00
10:53:00
10:56:00
10:58:00
11:00:00
11:02:00
11:05:00
11:08:00
11:10:00
11:13:00
11:15:00
11:17:00
11:19:00
11:21:00
10:55:30
10:59:30
11:02:30
11:04:30
11:06:30
11:08:30
11:11:30
11:14:30
11:16:30
11:19:30
11:21:30
11:23:30
11:25:30
11:27:30
11:02:00
11:06:00
11:09:00
11:11:00
11:13:00
11:15:00
11:18:00
11:21:00
11:23:00
11:26:00
11:28:00
11:30:00
11:32:00
11:34:00
11:10:00
11:14:00
11:17:00
11:19:00
11:21:00
11:23:00
11:26:00
11:29:00
11:31:00
11:34:00
11:36:00
11:38:00
11:40:00
11:42:00
11:18:00
11:22:00
11:25:00
11:27:00
11:29:00
11:31:00
11:34:00
11:37:00
11:39:00
11:42:00
11:44:00
11:46:00
11:48:00
11:50:00
11:26:00
11:30:00
11:33:00
11:35:00
11:37:00
11:39:00
11:42:00
11:45:00
11:47:00
11:50:00
11:52:00
11:54:00
11:56:00
11:58:00
11:34:00
11:38:00
11:41:00
11:43:00
11:45:00
11:47:00
11:50:00
11:53:00
11:55:00
11:58:00
12:00:00
12:02:00
12:04:00
12:06:00
11:42:00
11:46:00
11:49:00
11:51:00
11:53:00
11:55:00
11:58:00
12:01:00
12:03:00
12:06:00
12:08:00
12:10:00
12:12:00
12:14:00
11:50:00
11:54:00
11:57:00
11:59:00
12:01:00
12:03:00
12:06:00
12:09:00
12:11:00
12:14:00
12:16:00
12:18:00
12:20:00
12:22:00
11:58:00
12:02:00
12:05:00
12:07:00
12:09:00
12:11:00
12:14:00
12:17:00
12:19:00
12:22:00
12:24:00
12:26:00
12:28:00
12:30:00
12:06:00
12:10:00
12:13:00
12:15:00
12:17:00
12:19:00
12:22:00
12:25:00
12:27:00
12:30:00
12:32:00
12:34:00
12:36:00
12:38:00
12:14:00
12:18:00
12:21:00
12:23:00
12:25:00
12:27:00
12:30:00
12:33:00
12:35:00
12:38:00
12:40:00
12:42:00
12:44:00
12:46:00
12:22:00
12:26:00
12:29:00
12:31:00
12:33:00
12:35:00
12:38:00
12:41:00
12:43:00
12:46:00
12:48:00
12:50:00
12:52:00
12:54:00
12:30:00
12:34:00
12:37:00
12:39:00
12:41:00
12:43:00
12:46:00
12:49:00
12:51:00
12:54:00
12:56:00
12:58:00
13:00:00
13:02:00
12:38:00
12:42:00
12:45:00
12:47:00
12:49:00
12:51:00
12:54:00
12:57:00
12:59:00
13:02:00
13:04:00
13:06:00
13:08:00
13:10:00
12:46:00
12:50:00
12:53:00
12:55:00
12:57:00
12:59:00
13:02:00
13:05:00
13:07:00
13:10:00
13:12:00
13:14:00
13:16:00
13:18:00
12:54:00
12:58:00
13:01:00
13:03:00
13:05:00
13:07:00
13:10:00
13:13:00
13:15:00
13:18:00
13:20:00
13:22:00
13:24:00
13:26:00
13:02:00
13:06:00
13:09:00
13:11:00
13:13:00
13:15:00
13:18:00
13:21:00
13:23:00
13:26:00
13:28:00
13:30:00
13:32:00
13:34:00
13:10:00
13:14:00
13:17:00
13:19:00
13:21:00
13:23:00
13:26:00
13:29:00
13:31:00
13:34:00
13:36:00
13:38:00
13:40:00
13:42:00
13:18:00
13:22:00
13:25:00
13:27:00
13:29:00
13:31:00
13:34:00
13:37:00
13:39:00
13:42:00
13:44:00
13:46:00
13:48:00
13:50:00
13:26:00
13:30:00
13:33:00
13:35:00
13:37:00
13:39:00
13:42:00
13:45:00
13:47:00
13:50:00
13:52:00
13:54:00
13:56:00
13:58:00
13:34:00
13:38:00
13:41:00
13:43:00
13:45:00
13:47:00
13:50:00
13:53:00
13:55:00
13:58:00
14:00:00
14:02:00
14:04:00
14:06:00
13:42:00
13:46:00
13:49:00
13:51:00
13:53:00
13:55:00
13:58:00
14:01:00
14:03:00
14:06:00
14:08:00
14:10:00
14:12:00
14:14:00
13:50:00
13:54:00
13:57:00
13:59:00
14:01:00
14:03:00
14:06:00
14:09:00
14:11:00
14:14:00
14:16:00
14:18:00
14:20:00
14:22:00
13:58:00
14:02:00
14:05:00
14:07:00
14:09:00
14:11:00
14:14:00
14:17:00
14:19:00
14:22:00
14:24:00
14:26:00
14:28:00
14:30:00
14:06:00
14:10:00
14:13:00
14:15:00
14:17:00
14:19:00
14:22:00
14:25:00
14:27:00
14:30:00
14:32:00
14:34:00
14:36:00
14:38:00
14:14:00
14:18:00
14:21:00
14:23:00
14:25:00
14:27:00
14:30:00
14:33:00
14:35:00
14:38:00
14:40:00
14:42:00
14:44:00
14:46:00
14:22:00
14:26:00
14:29:00
14:31:00
14:33:00
14:35:00
14:38:00
14:41:00
14:43:00
14:46:00
14:48:00
14:50:00
14:52:00
14:54:00
14:30:00
14:34:00
14:37:00
14:39:00
14:41:00
14:43:00
14:46:00
14:49:00
14:51:00
14:54:00
14:56:00
14:58:00
15:00:00
15:02:00
14:38:00
14:42:00
14:45:00
14:47:00
14:49:00
14:51:00
14:54:00
14:57:00
14:59:00
15:02:00
15:04:00
15:06:00
15:08:00
15:10:00
14:46:00
14:50:00
14:53:00
14:55:00
14:57:00
14:59:00
15:02:00
15:05:00
15:07:00
15:10:00
15:12:00
15:14:00
15:16:00
15:18:00
14:54:00
14:58:00
15:01:00
15:03:00
15:05:00
15:07:00
15:10:00
15:13:00
15:15:00
15:18:00
15:20:00
15:22:00
15:24:00
15:26:00
15:02:00
15:06:00
15:09:00
15:11:00
15:13:00
15:15:00
15:18:00
15:21:00
15:23:00
15:26:00
15:28:00
15:30:00
15:32:00
15:34:00
15:10:00
15:14:00
15:17:00
15:19:00
15:21:00
15:23:00
15:26:00
15:29:00
15:31:00
15:34:00
15:36:00
15:38:00
15:40:00
15:42:00
15:18:00
15:22:00
15:25:00
15:27:00
15:29:00
15:31:00
15:34:00
15:37:00
15:39:00
15:42:00
15:44:00
15:46:00
15:48:00
15:50:00
15:26:00
15:30:00
15:33:00
15:35:00
15:37:00
15:39:00
15:42:00
15:45:00
15:47:00
15:50:00
15:52:00
15:54:00
15:56:00
15:58:00
15:34:00
15:38:00
15:41:00
15:43:00
15:45:00
15:47:00
15:50:00
15:53:00
15:55:00
15:58:00
16:00:00
16:02:00
16:04:00
16:06:00
15:42:00
15:46:00
15:49:00
15:51:00
15:53:00
15:55:00
15:58:00
16:01:00
16:03:00
16:06:00
16:08:00
16:10:00
16:12:00
16:14:00
15:50:00
15:54:00
15:57:00
15:59:00
16:01:00
16:03:00
16:06:00
16:09:00
16:11:00
16:14:00
16:16:00
16:18:00
16:20:00
16:22:00
15:58:00
16:02:00
16:05:00
16:07:00
16:09:00
16:11:00
16:14:00
16:17:00
16:19:00
16:22:00
16:24:00
16:26:00
16:28:00
16:30:00
16:06:00
16:10:00
16:13:00
16:15:00
16:17:00
16:19:00
16:22:00
16:25:00
16:27:00
16:30:00
16:32:00
16:34:00
16:36:00
16:38:00
16:14:00
16:18:00
16:21:00
16:23:00
16:25:00
16:27:00
16:30:00
16:33:00
16:35:00
16:38:00
16:40:00
16:42:00
16:44:00
16:46:00
16:22:00
16:26:00
16:29:00
16:31:00
16:33:00
16:35:00
16:38:00
16:41:00
16:43:00
16:46:00
16:48:00
16:50:00
16:52:00
16:54:00
16:30:00
16:34:00
16:37:00
16:39:00
16:41:00
16:43:00
16:46:00
16:49:00
16:51:00
16:54:00
16:56:00
16:58:00
17:00:00
17:02:00
16:38:00
16:42:00
16:45:00
16:47:00
16:49:00
16:51:00
16:54:00
16:57:00
16:59:00
17:02:00
17:04:00
17:06:00
17:08:00
17:10:00
16:46:00
16:50:00
16:53:00
16:55:00
16:57:00
16:59:00
17:02:00
17:05:00
17:07:00
17:10:00
17:12:00
17:14:00
17:16:00
17:18:00
16:54:00
16:58:00
17:01:00
17:03:00
17:05:00
17:07:00
17:10:00
17:13:00
17:15:00
17:18:00
17:20:00
17:22:00
17:24:00
17:26:00
17:02:00
17:06:00
17:09:00
17:11:00
17:13:00
17:15:00
17:18:00
17:21:00
17:23:00
17:26:00
17:28:00
17:30:00
17:32:00
17:34:00
17:08:30
17:12:30
17:15:30
17:17:30
17:19:30
17:21:30
17:24:30
17:27:30
17:29:30
17:32:30
17:34:30
17:36:30
17:38:30
17:40:30
17:15:00
17:19:00
17:22:00
17:24:00
17:26:00
17:28:00
17:31:00
17:34:00
17:36:00
17:39:00
17:41:00
17:43:00
17:45:00
17:47:00
17:21:30
17:25:30
17:28:30
17:30:30
17:32:30
17:34:30
17:37:30
17:40:30
17:42:30
17:45:30
17:47:30
17:49:30
17:51:30
17:53:30
17:21:30
17:25:30
17:28:30
17:30:30
17:32:30
17:34:30
17:37:30
17:40:30
17:42:30
17:45:30
17:47:30
17:49:30
17:51:30
17:53:30
17:28:00
17:32:00
17:35:00
17:37:00
17:39:00
17:41:00
17:44:00
17:47:00
17:49:00
17:52:00
17:54:00
17:56:00
17:58:00
18:00:00
17:34:30
17:38:30
17:41:30
17:43:30
17:45:30
17:47:30
17:50:30
17:53:30
17:55:30
17:58:30
18:00:30
18:02:30
18:04:30<



User Comments

See what users think about the trip

Write Your Comments

Let us know what you feel!

More Blogs Posts

Take a glimpse of other travel stories