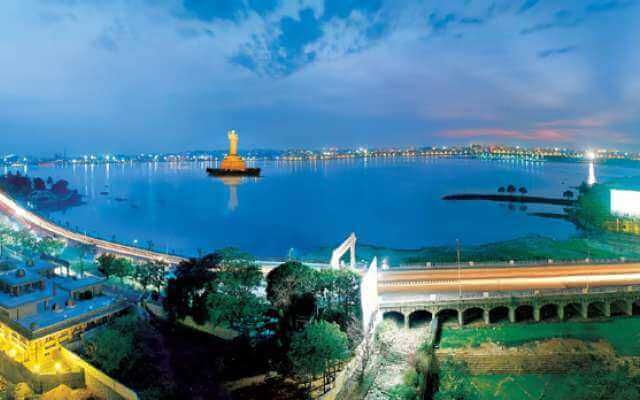 Hyderabad City 2 days Tour ( 2 Days/1 Night)
Hyderabad City 2 days Tour ( 2 Days/1 Night)
Hyderabad City Tour 2 days ( 2 Days / 1 Night)
Hyderabad City
Hyderabad may seem like a city mostly visited by tech employees and businessmen. However, the city was the center for much Medieval History and the place where diamonds were first, and only, mined. The fairytale city is filled with stories of love, war, conquest, and mysteries which make for the best things to do in Hyderabad in 2 days.
Let this Hyderabad itinerary show you the best part of the city in just a weekend. And if you only have one day, scroll down to our itinerary for 1 day in Hyderabad or, if you are visiting for longer, let us inspire you with one more day where you can see what 2 days in Hyderabad could look like. Either way, the capital of Telangana is a wonderful city to explore no matter how long you are staying for.
Itinerary:
1. Birla Temple
2. Golconda Fort
3. Salarjung Museum
4. H.E.H Nizam Museum
5. Charminar
6. Sudha Cars Museum
7. N.T.R Gardens
8. Lumbini Park
9. Hussain Sagar
10. Golconda 3D World
1. Birla Temple
This peaceful site blends various spiritual sects and architectural styles. Enjoy scenic views of the sunset and the illuminated temple at night.
Birla Mandir Temple is central to spirituality in Hyderabad and is famous for its impressive architecture. The building is made of 2,000 tons of pure white marble. It contains several shrines devoted to Hindu and Buddhist deities. The traditional site also embraces modernity with light displays at night. Visit the Birla Science Museum and Birla Planetarium next door.
Birla Temple Timings: 7AM - 12 PM & 3 PM - 9 PM
Entry Fee: Free
* * * * * * * * * *
2. Golconda Fort
It has been 500 years since the Golconda Fort came into existence. At one point in history, the fort was the pride and glory of the land, standing tall and regal—filled with treasures that are unimaginable today!
Yet, with constant ransacking and battle, the once magnificent fort gradually fell into disrepair.
Golkonda / Golconda Fort Timings: 9 AM - 5.30 PM, Sound & Light Show: 6.30 PM - 7.45 PM

Entry Fee: Rs. 5 for Indians, Rs. 100 for Foreigners, Rs. 25 for Camera & Light & Sound Show: Rs. 140 for Executive Class, Rs. 80 for Normal Class
* * * * * * * * * *
3. Salarjung Museum
Journey through time, from the 2nd century through to the 20th, as you browse books, artworks, and other fascinating items gathered by the adventurer Salar Jung.
The Salar Jung Museum is one of India's most prized historic institutions, preserving a huge range of ancient academic journals, rustic weaponry, and precious royal items from throughout the ages. Examine the intriguing collection of objects amassed by one globetrotting explorer.
Salar Jung was an adventurer who traveled the globe in the 19th and 20th centuries, collecting souvenirs of his travels.
Salar Jung Museum Timings: 10 AM - 5 PM, Closed on all Friday & Public Holidays
Entry Fee : Rs.20 for Indians, Rs.500 for Foreigners & Rs. 50 for Camera
* * * * * * * * * *
4. H.E.H Nizam Museum
Take a trip back in time at this old palace to see how one of India's former ruling monarchs lived.
The Nizam's Museum is based in the Purani Haveli, the palace of the former monarchy. The museum showcases the antiques and souvenirs of the affluent Nizam family. The collection includes gifts from visiting heads of state, such as pieces of gold and early 20th-century vintage cars. Take a guided tour around the museum and learn about the culture and history of Hyderabad.
The Nizam family ruled the state of Hyderabad for 224 years, starting in the 18th century. The museum was created at the command of the seventh and final Nizam.
Nizam Museum Timings: 3:25 PM to 4:10 PM
Entry Fee: (Rs. 65/- ) For Adults and Rs. 15/- For Childs
* * * * * * * * * *
5. Charminar
In the late 16th century, this monument was erected to celebrate the end of a plague. Now, it is one of Hyderabad's most famous landmarks.
The Charminar monument is an internationally recognized icon in the center of Hyderabad. With its minarets and domes, it showcases typical Islamic design. In one corner sits a beautiful mosque where mass prayers take place on Fridays. Tourists rarely leave the city without taking a trip to Charminar and the surrounding markets, which are filled with food and jewelry. The monument was built in 1591 to celebrate the end of a plague epidemic in Hyderabad.
Charminar Timings: 9 AM to 5 PM
Entry Fee: Rs. 5 for Indians & Rs. 100 for Foreigners
* * * * * * * * * *

6. Sudha Cars Museum
Sudha Cars Museum is an automobile museum located in Hyderabad, India. The museum displays "crazy cars" that resemble everyday objects. These cars are handmade by Kanyaboyina Sudhakar who started it as his hobby in his school days and opened the dedicated museum in 2010.
Sudha Cars Museum Timigs: 9.30 am to 6.30 pm.
Entry Fee: Rs. 50/- For Adults and Rs. 15/- For Childs
* * * * * * * * * *
7. N.T.R Gardens
NTR Gardens or NTR Memorial Gardens of Hyderabad is one of the chief attractions of the city of Hyderabad. NTR Memorial Gardens that cover up to 36 acres of land and offer recreation facilities such as Machan tree, Japanese garden, Car cafe, souvenir shops, children's play area, etc. There is a monorail system that provides a ride around the garden. NTR Gardens is a popular landmark of Hyderabad and is rated among the best gardens of the twin cities of Hyderabad and Secunderabad.
NTR Gardens Timings: 8:00am–9:00pm
Entry Fee:
20 per Adult
10 per Child
30 for Still Camera
65 for Camcorder
* * * * * * * * * *
8. Lumbini Park
Located along the shore of Hussain Sagar Lake, this park combines a relaxing setting with spectacular musical fountains and a laser show about Hyderabad.
Lumbini Park is a 7.5-acre (3-hectare) lakeside park known for its 3-D laser display, musical fountain, speedboats, and picnic areas. Come to relax on the banks of Hussain Sagar or spend a full day enjoying the park's many attractions, including evening light shows.
Lumbini Park Timings: 9 AM to 9 PM, Closed on Monday, Musical Fountain timings: 6.30 PM & 8 PM, Laser Show timings: 7.15 PM
Entry Fee: Rs.10 for Adults, Rs.5 for Children, Speed Boat: Rs.50 per person, Ferry Boat: Rs.40 per person and Laser Show: Rs.50 per person.
9. Hussain Sagar
Hussain Sagar Lake is one of the largest man-made lake situated at the confluence of Hyderabad, Secunderabad, and Begumpet. It is a sprawling artificial lake that holds water perennially. Its uniqueness lies in the fact that it connects the twin cities of Hyderabad and Secunderabad. The lake was built in the year 1575 by Sultan Ibrahim Kutb Shah at a cost of about Rs. 2.5 lakhs. The lake was originally constructed to supply drinking water but it is not used as a drinking water source since 1930. The lake also protected the citizens staying in the low lying areas around the lake from floods.
Hussain Sagar Timings: 8:00 AM to 10:00 PM
Entry Fee: No Entry Fee
10. Golconda 3D World
3D World is a place to re-discover the heritage of Hyderabad, in our 3D show. The show is considered for 3D viewing on-screen whose main focus is architectural visualization of historical places in Hyderabad with an extreme blend of history and a fascinating fusion of modernized conceptualized visual effects. 3D World also provides hospitality like waiting for the lounge, cafeteria, art gallery and many more. 3D World will be a favorite destination for tourists to gain enjoyment and knowledge of Hyderabad heritage. The dynamic voice over HD visual effects in the 3D show is in two languages Hindi and English respectively.
Golkonda 3D World Timings: Sound & Light Show: 6.30 PM - 7.45 PM
Golconda 3D World Light & Sound Show Timings: Rs. 140 for Executive Class, Rs. 80 for Normal Class.
Day 1: Start at 9:00 AM from Hyderabad and visit the following places
Birla Temple
Golconda Fort
Salarjung Museum
H.E.H Nizam Museum
Charminar
Golconda 3D World
Day 2: Start at 9 AM and visit the following places
Sudha Cars Museum
N.T.R Gardens
Lumbini Park
Hussain Sagar
Exclusions
Lunch, Dinner, Snacks & Beverages
Entry Fees & Guide Charges
Activity Fees
Hotel Early Check-in / Late Check-out Charges, if applicable
Other items not mentioned in Inclusions
Inclusions
Accommodation in selected category hotel (NA for Day Trips
Sightseeing as per Itinerary by Private Cab
Parking & Toll Charges
Driver Allowance
Inter-state Entry Tax, if applicable
Pickup & Drop from Your Origin City (Optional)
Total fare includes GST
Availability
Hyderabad Travels (A/C ) and (Non A/C ) Bus are Available
Tempo Traveller (A/C) and (Non A/C) Availabale
Mini Bus (A/C) and (Non A/C) Available
Royal Travells ( A/C ) and ( Non A/C ) Available
Cab or Taxi ( A/C ) and ( Non A/C ) Available.
Note:
Pick up and Drop will be the same point
For more details and information please visit our website bestbus.in
Mail 1: info@bestbus.in
Mail 2: bestbus.in@gmail.com