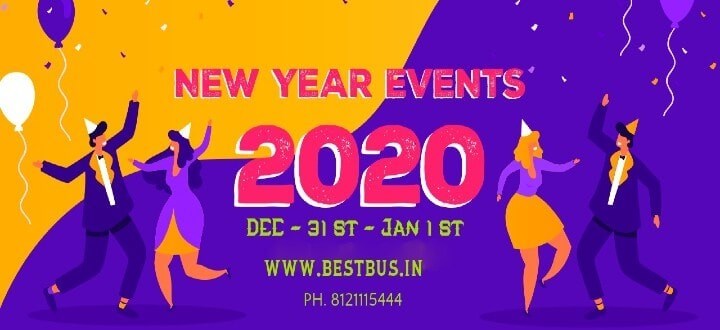 New Year Eve Parties in Hyderabad
welcome the grand New Year!
Book Now
25 Best New Year Eve Parties In Hyderabad:
Hyderabad has a great nightlife scene on a normal weekend, but New Year's Eve is absolutely lit. Banjara Hills, Gachibowli, Jubilee Hills- the hotspots of the city's pubs and bars have some house some happening events. We have collated almost all the top new year events in all the major hotels and venues of Hyderabad with their online tickets. Here' s a list of the venues and their events.
Grand 2020 New Year Party Packages on 30 & 31 DEC
Two thematic parties on 30th and 31st December to welcome the grand New Year! Be a part of all the fun and excitement fed by the live bands, scintillating performers and cheering crowds. Gift your family a memorable New Year's Eve thematic bash. The celebratory parties in select venues of Ramoji Film City will bring a wonderful ambiance to experience. The special celebrations with palpable excitement would mark the elevated mood.
1. Hyderabad NYE Bash 2020
Date: 31 Dec 2019 – 1 Jan 2020
Entry Time from 8.00 PM
Venue: Taj Banjara, Hyderabad, Telangana
Hyderabad NYE Bash 2020 Fare Details:
Note: For This Package Available on Only 31st Night (New Year Special)
Package Highlights:
Entry to the Venue from 08:00 P.M Onwards
Fireworks,
Sky lanterns,
Food stalls,
Performances by Spinnin Vibez
Best service is available at reasonable rates, for further details, please contact 8121115444
Online Booking For New Year Party on 31 DEC: Book Now
2. New Year's Eve at Taj Banjara
Taj Banjara one of the finest 5-star venues in Hyderabad, it is also among the city's best options for fine dining and drinks. The NYE event comes with a DJ night, a buffet and drinks. The event is also kid friendly.
Date: 31 Dec 2019 – 1 Jan 2020
Entry Time from 8.00 PM
Venue: Countryside Resorts, Hyderabad, Telangana
New Year's Eve at Taj Banjara Fare Details:
Note: For This Package Available on Only 31st Night (New Year Special)
Package Highlights:
Entry to the Venue from 08:00 P.M Onwards
DJ Felix
Conjurer Ram
Food stalls,
High Voltage Dance Group
Best service is available at reasonable rates, for further details, please contact 8121115444
Online Booking For New Year Party on 31 DEC: Book Now
3. TOT New Year's Eve
Date: 31 Dec 2019 – 1 Jan 2020
Entry Time from 8.00 PM
Venue: TOT, 115, Road Number 10, Sravanthi Nagar, ICRISAT Colony, Jubilee Hills, Hyderabad
TOT New Year's Eve Fare Details:
Note: For This Package Available on Only 31st Night (New Year Special)
Package Highlights:
Entry to the Venue from 08:00 P.M Onwards
Artists like Justin Mylo, Shiv, and Myris
Food stalls,
Best service is available at reasonable rates, for further details, please contact 8121115444
Online Booking For New Year Party on 31 DEC: Book Now
4. New Year's Eve 2019 At Prism Club
Date: 31 Dec 2019 – 1 Jan 2020
Entry Time from 8.00 PM
Venue: Prism Club, Old Mumbai Hwy, Financial District, Gowlidoddy, Hyderabad
New Year's Eve 2019 At Prism Club Fare Details:
Note: For This Package Available on Only 31st Night (New Year Special)
Package Highlights:
Entry to the Venue from 08:00 P.M Onwards
Popular DJs
Deals on Food and Beverages
Best service is available at reasonable rates, for further details, please contact 8121115444
Online Booking For New Year Party on 31 DEC: Book Now
5. Spoil New Year Bash 2020
Date: 25 Dec 2019 – 1 Jan 2020
Entry Time from 8.00 PM
Venue: Spoil, 8-3-293/82/A/70, 4th Floor, Anshu Colours Building, Road No. 1, Opposite Chiranjeevi Blood & Eye Bank, Jubilee Hills, Hyderabad
Spoil New Year Bash 2020 Fare Details:
Note: For This Package Available on 25 Dec 2019 – 1 Jan 2020 (New Year Special)
Package Highlights:
Entry to the Venue from 08:00 P.M Onwards
International DJs
Deals on Food and Beverages
Best service is available at reasonable rates, for further details, please contact 8121115444
Online Booking For New Year Party on 31 DEC: Book Now
6. Fun Xtended 2019 NYE At Trident
Date: 31 Dec 2019 – 1 Jan 2020
Entry Time from 8.00 PM to 12:30 AM
Venue: Hotel Trident, Madhapur, Jubilee Enclave
Fun Xtended 2019 NYE At Trident Fare Details:
| | |
| --- | --- |
| Couple | Rs.7999/- |
| Stag Entry | Rs.4999/- |
Note: For This Package Available on 25 Dec 2019 – 1 Jan 2020 (New Year Special)
Package Highlights:
Entry to the Venue from 08:00 P.M Onwards
Premium beverages
Unlimited food
Lucky draw for a trip to Bali for 2
Best service is available at reasonable rates, for further details, please contact 8121115444
Online Booking For New Year Party on 31 DEC: Book Now
7. New Year Eve Party – Ramoji Film City:
Date: 31 Dec 2019 – 1 Jan 2020
Entry Time from 8.00 PM to 1:00 AM
Venue: Ramoji Signage Area, Ramoji Film City
New Year Eve Party – Ramoji Film City Fare Details:
| | |
| --- | --- |
| Couple | Rs.4999/- |
| Adult | Rs.2999/- |
| Child | Rs.1999/- [Child (33" Ht to 54" Ht)] |
Note: For This Package Available on 31 st Dec 2019(New Year Special)
Package Highlights:
Entry to the Venue from 08:00 P.M Onwards
Performance by Usha Uthup
dance troupe
international acts
performance by DJ Shiva Prasad
emcee interaction
Best service is available at reasonable rates, for further details, please contact 8121115444
Online Booking For New Year Party on 31 DEC: Book Now
8. NYE 2019 At Taj Deccan
Date: 31 Dec 2019 – 1 Jan 2020
Entry Time from 8.00 PM to 12:00 AM
Venue: Taj Deccan Road Number 1, Banjara Hills
NYE 2019 At Taj Deccan Fare Details:
| | |
| --- | --- |
| Bird Gold Stag | Rs.2999/- |
| Early Gold Stag | Rs.4999/- |
Note: For This Package Available on 31 st Dec 2019(New Year Special)
Package Highlights:
Entry to the Venue from 08:00 P.M Onwards
Fashion show
magic show
tattoo stalls
selfie photo booth
continuous fireworks
New Year countdown
Best Couple Awards
Best service is available at reasonable rates, for further details, please contact 8121115444
Online Booking For New Year Party on 31 DEC: Book Now
9. 2019 Vol. 4.0 At Fusion9
Date: 31 Dec 2019
Entry Time from 2.30 PM to 7:00 AM
Venue: Fusion 9, Inorbit Mall
2019 Vol. 4.0 At Fusion9 Fare Details:
| | |
| --- | --- |
| Early Bird | Rs.1499/- |
| Early Bird Couple | Rs.3399/- |
Note: For This Package Available on 31 st Dec 2019(New Year Special)
Package Highlights:
Entry to the Venue from 2:30 P.M Onwards
Plenty of drinks
Dj Jeny performance
Best service is available at reasonable rates, for further details, please contact 8121115444
Online Booking For New Year Party on 31 DEC: Book Now
10. NY Party 2019 With DJ At Leonia
Date: 31 Dec 2019
Entry Time from 8.00 PM to 1:00 AM
Venue: Leonia Holistic Destination, Bommaraspet, Shameerpet, Ranga Reddy District
NY Party 2019 With DJ At Leonia Fare Details:
| | |
| --- | --- |
| Early Bird | Rs.1999/- |
| Early Bird Couple | Rs.2999/- |
Note: For This Package Available on 31 st Dec 2019(New Year Special)
Package Highlights:
Entry to the Venue from 08:00 P.M Onwards
Wonderful performances by LV Revanth, Malavika Sundar, Anurag Kulkarni, Lipsika Bhashyam, Simran Choudhary
Best service is available at reasonable rates, for further details, please contact 8121115444
Online Booking For New Year Party on 31 DEC: Book Now
11. Mad On 2K19 At Park Exotica
Date: 31 Dec 2019
Entry Time from 6.00 PM to 12:30 AM
Venue: Park Exotica Family Resort Recreation Garden, Kismatpur
Mad On 2K19 At Park Exotica Fare Details:
| | |
| --- | --- |
| Couple | Rs.2500/- |
| Stag Entry | Rs.1500/- |
Note: For This Package Available on 31 st Dec 2019(New Year Special)
Package Highlights:
Entry to the Venue from 06:00 P.M Onwards
Huge light 3D & sound setup
Fireworks
Raindance
Live sound
Good couple surprise
Best service is available at reasonable rates, for further details, please contact 8121115444
Online Booking For New Year Party on 31 DEC: Book Now
12. NYE 2019 At Playboy Beer Garden
Date: 31 Dec 2019
Entry Time from 8.00 PM to 12:00 AM
Venue: Playboy Beer Garden, Jubilee Hills
NYE 2019 At Playboy Beer Garden Fare Details:
| | |
| --- | --- |
| Early Bird | Rs.1499/- |
| Early Bird Couple | Rs.1999/- |
Note: For This Package Available on 31 st Dec 2019(New Year Special)
Package Highlights:
Entry to the Venue from 08:00 P.M Onwards
DJ Art Friction, live music, and fire play
Best service is available at reasonable rates, for further details, please contact 8121115444
Online Booking For New Year Party on 31 DEC: Book Now
13. Boomerang New Year Eve 2019 At Hitech City
Date: 31 Dec 2019
Entry Time from 6.00 PM to 1:00 AM
Venue: Vasantha City, Hitech City, Hafeezpet
Boomerang New Year Eve 2019 At Hitech City Fare Details:
| | |
| --- | --- |
| Early Bird | Rs.899/- |
| Early Bird Couple | Rs.1299/- |
Note: For This Package Available on 31 st Dec 2019(New Year Special)
Package Highlights:
Entry to the Venue from 06:00 P.M Onwards
Glaring stage
dance performances
food
beverage
liquor
Best service is available at reasonable rates, for further details, please contact 8121115444
Online Booking For New Year Party on 31 DEC: Book Now
14. PUB-G 2K19
Date: 31 Dec 2019
Entry Time from 6.00 PM to 1:00 AM
Venue: D Lake View Resort, Aziz Nagar Village, Moinabad (M), R.R. Dist. Hyderabad
NYE 2019 At Taj Deccan Fare Details:
Note: For This Package Available on 31 st Dec 2019(New Year Special)
Package Highlights:
Entry to the Venue from 06:00 P.M Onwards
Fireworks
Best service is available at reasonable rates, for further details, please contact 8121115444
Online Booking For New Year Party on 31 DEC: Book Now
15. New Year Family Fun Event @ SkyZone Trampoline
Date: 31 Dec 2019
Entry Time from 6.00 PM to 1:00 AM
Venue: H.no, 8-78, Shankarpalli – Hyderabad Road, Kokapet, Hyderabad, Telangana 500075
New Year Family Fun Event @ SkyZone Trampoline Fare Details:
Note: For This Package Available on 31 st Dec 2019(New Year Special)
Package Highlights:
Entry to the Venue from 06:00 P.M Onwards
Glow jump
Countdown
Cake cutting
Best service is available at reasonable rates, for further details, please contact 8121115444
Online Booking For New Year Party on 31 DEC: Book Now
16. New Year's Eve 2016 By Hard Rock Cafe @ Hyderabad
Price: Ranging from Rs. 2499/- to Rs. 7,499/
Including Entry Fee (Food & Beverages)
Types of Passes: Stags, Couple
Location: Hard Rock Cafe, Hyderabad
Buy Tickets for Hard Rock Cafe Hyderabad
17. NYE with LOST STORIES 2016 @ KLUB TRINITY
Price: Starting from 4,999/-
Including Entry Fee (Food & Beverages)
Types of Passes: Stag, Couple
Location: Klub Trinity, Hyderabad
Buy Tickets for NYE with LOST STORIES 2016 @ KLUB TRINITY
18. FunLtd 2016 New Year Eve @ Novotel Hotel
Price: Ranging from Rs. 800/- to Rs. 13,999/- (10% FLAT DISCOUNT till 15th December)
Including Entry Fee (Food & Beverages)
Types of Passes: Kids, Stags, Couple, Couple with Stay
Location: Novotel Hotel, Hyderabad
Buy Tickets for New year Party at Novotel Hyderabad
19. New Year Eve 2016 @ Chiraan Fort
Price: Ranging from Rs. 1,800/- to 3,000/-
Including Entry Fee (Food & Beverages)
Types of Passes: Stag, Couple
Location: Chiraan Ford, Begumpet, Hyderabad
Buy Tickets for New year Party at Chiraan Fort Hyderabad
Online Booking For New Year Party on 31 DEC: Book Now
Book Now
Book Now