Haritha Hotel Dharmapuri
Explore these places and some other thing
Send Enquiry
Facilities
Haritha Hotel at Dharmapuri, which is located on the banks of the River Godavari caters to the tourists and pilgrims who arrive at the famous Narasimha Swamy temple of Karimnagar district in Telangana.
There are good facilities for A/C and Non-A/C accommodation with spacious rooms while the restaurant serves quality food for the growing number of pilgrims at this temple.
Telangana is one of India's leading destinations in the hospitality segment and has an impressive number of rooms across luxury, economy and budget segments. Telangana State Tourism Development Corporation (TSTDC) offers luxurious, comfortable and world-class accommodation with its Haritha chain of hotels and resorts all over the state. These resorts are well maintained and reliable with many amenities for the comfort of tourists.
The modern ambiance and the excellent facilities offered by Telangana Tourism makes the stay of tourists pleasant and memorable. In addition, there are many private resorts and hotels that cater to the tourist flow with quality facilities.
Enquiry Now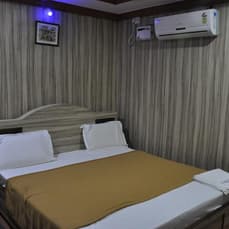 A/C Room
10:30 AM | 10:30 AM
Max Per Room :

Enquiry Now

Send Enquiry

Break Fast

Security

TV
Enquiry Now

Hotel Policy
Explore these places and some other thing here
Send Enquiry
Hotel Policy
Cancellation Policy