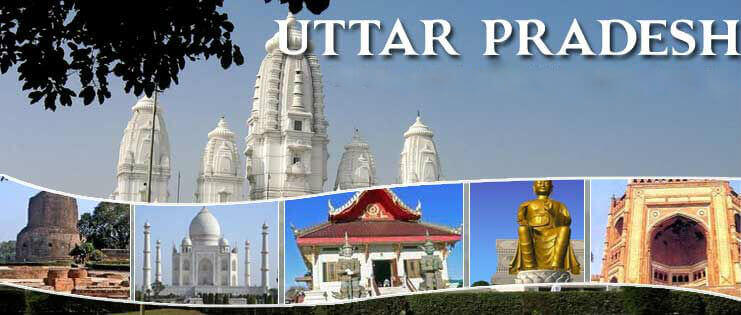 Uttar Pradesh Tourism
Uttar Pradesh Tourism
History of Uttar Pradesh :
The history of Uttar Pradesh is very much associated with the broad history of India. It dates back to 4000 years. Formerly the area of Uttar Pradesh was occupied by the Aryans or the Dasas and their main occupation was agriculture. The Aryans, through conquests occupied the adjoining areas too.
They laid the foundations their civilisation in the region. It was during the Aryan inhabitation in the region that epics of Mahabharata, Ramayana, Brahmanas and Puranas were written.
The state is the heart of Mahabharata war. The Kosala Kingdom of Ayodhya is said to have been incarnated in the city of Mathura.
It was around the middle of the 1st millennium BC that Uttar Pradesh saw the advent of Lord Buddha and the spread of Buddhism. Around the time Lord Buddha delivered his first sermon at Dhamek Stupa in Sarnath when Uttar Pradesh was under the Magadh rule. Here Chaukhandi Stupa marks the spot where Lord Buddha met his disciples.
Besides Kuru, Panchalas, Vatsas, and Videhas etc. formed the early region of the state. These regions were known as Madhyadesa. During Ashoka`s reign, several public welfare works were taken up. During the rule of Magadha Empire, Buddhism and Jainism developed in this region. It was a period of administrative and economic advancement.
The power subsequently shifted to the Nanda dynasty and then to the Mauryas. The region reached its pinnacle of glory during the reign of Harshavardhana.
The historical background of Uttar Pradesh has a lot to do with the advent of Muslim rule. This period witnessed the subjugation of the Rajputs whose power was confined to a few pockets of Rajasthan. Uttar Pradesh reached the peak of prosperity during the Mughal rule and particularly during the rule of Emperor Akbar.
The British East India Company came into contact with rulers of Awadh during the reign of third Nawab of Awadh. There is no doubt that the history of Uttar Pradesh has run concurrently with the history of the country during and after the British rule, but it is also well-known that the contribution of the people of the state in the national freedom movement had been significant. Uttar Pradesh also played a key role in the 1857 War of Independence.
Uttar Pradesh has seen it all, from the rule of Rama to the rule of British.
Uttar Pradesh Management Team :
1. Smt. Rita Bahuguna Joshi
(Hon'ble Tourism Minister, Uttar Pradesh)

2. Sri Awanish Kumar Awasthi, I.A.S.

(Additional Chief Secretary & Director General Department of Tourism, Govt. of U.P.)

3. Sri Akhand Pratap Singh, I.A.S

(Special Secretary, Department of Tourism, Govt. of U.P. &Managing Director, U.P. State Tourism Development Corporation Ltd.)
Uttar Pradesh Tourism / Tourist places to Visit in Uttar Pradesh :
Agra
Varanasi
Sarnath
Meerut
Lucknow
Allahabad
Fatehpur Sikri
Rae Bareily
Mathura
Ayodhya
Aligarh
Shravasti
Baldeo
Balrampur
Bithoor
Vrindavan
Noida
Chitrakoot
Faizabad
Kapilavastu
Gokul
Gorakhpur
Jaunpur
Sunauli
Jhansi
Kannauj
Kanpur
Mahaban
Kaushambi
Kushinagar
Uttar Pradesh Tourism Contact Number :

0522-2615005, 2614284
See More Information Visit Us Official Website : www.uptourism.gov.in