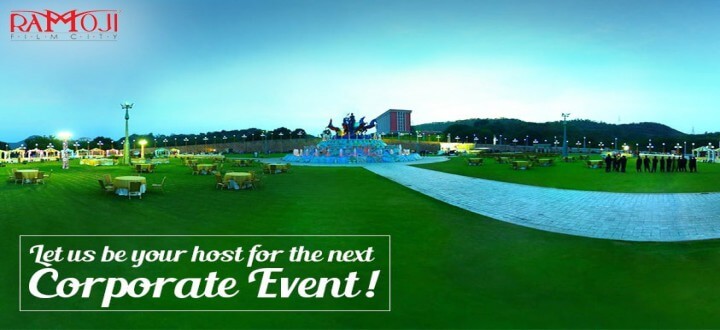 Corporate Events at Ramoji Film City
Book luxury Corporate venues
Book Now
Corporate Events at Ramoji Film City and Book Luxury Corporate Venues
The world's largest Film City has everything to do with, IT hubs always plan their Business meetings and Corporate events in Ramoji Film City and get great value-added experience. Ramoji Film City has a separate team of professional corporate event experts who organize your events and activities precisely to give you the unique experience in every nick of time during the event.
For an Official Business meeting in Hyderabad or an event to improve the team building in your companies and make a positive work ethic this is the place where you have to opt without a second opinion.
Conferences/Workshops
For planning a Conference or workshops, Ramoji Film City has the spacious full-fledged corporate banquet halls accommodated by Hotel Sitara and Tara Hotel with all the amenities for the smooth flow of work in your events. You can avail tailor-made services for your events and get your requirements fulfilled with value-added services.
Product Launches
For the Big-B companies, this is the right choice to organize their product launches and these days software companies are preferring Ramoji Film City to organize their Product launches as well in a great way. Plan your product launches in the open gardens or banquet halls as you dream they make it!
Customized Events
Let your imaginations turn into reality! Whatever the theme or the location you have in mind, just brief it to the experts and get the surreal set of your imagination into a real event. Be it natural locations to the setup of the foreign delegates meet, you can get the structure of your imaginations with life!
Team Building Activities
For the best building exercises or any team building activities, to create a teamwork environment and group assignments, Ramoji Film City plans the best activities to enhance your will power and teamwork responsibilities. For a change from the daily routine of life, some crazy adventures in Sahas will make your soul retain the energy you lost back in time. You can plan activities in Sahas adventures land and participate in different adventure rides with your team and win the task to get cheer credits!
Company Anniversary Events
Ramoji Film City has spectacular sets to arrange the anniversary events of your Organization with all the bashing activities to create a fun environment and bring a refreshing touch to the boredom work life. Many tailormade sets and locations filled with fabulous ambiance are what make your corporate event a big hit.
Ramoji Film City also houses many open gardens, banquet halls, five-star hotels, customized sets according to the customer needs to organize the corporate events with great value, you name it and we make is their motto of being the largest film city in the world!
Book Now
Book Now