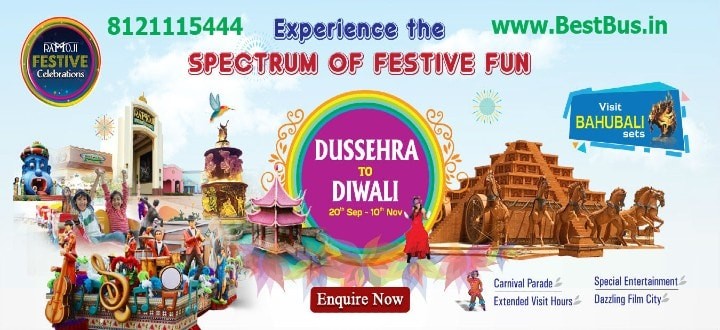 Dussehra Festival Packages
Festivity Galore Dusserhra
Book Now
Ramoji Film City Dussehra Festival Celebration Packages
Enjoy this Dussehra (DASARA) Festival in Ramoji Film City-The World's Largest Film City in India with your Family and Friends at Just Rs.1150/-
Praise the triumph of good over malevolence and the celebration of lights in the captivated place where there is cine-enchantment. In an interesting festival from Dussehra to Diwali – Ramoji Film City would bring 48-days of enthusiastic, happy bonanza while displaying unique diversion with a flat out disposition for holidaying. The energetic jamboree pomp and breathing life into areas will be a piece of exceptional happy festivals. Visitors will be blessed to receive the kind of party and magnificence of the world's biggest film city. Come and profit selective stay bundles, particularly intended for you. A visit to the blockbuster Bahubali sets will be an exceptional treat. (Note: You can visit Bahubali sets just from 16th October onwards)
What are The Dussehra Special Events?
1. Special Entertainment
Guests can have fun with the magic of cinema with a guided tour of the make-believe world. Enjoy the thrilling rides, stunts and other live shows. The special attractions include – Fundustan – dedicated to children, Borasura the spine-chilling walkthrough and eco-tour with exotic Bird Park, Butterfly Park, and Bonsai Garden, etc. Guests can visit the magnificent Bahubali sets (only from 16th October onwards), enjoy Carnival parade, live stage shows, and sparkling evening entertainment.
2. Dazzling Film City:
In sync with the holiday exuberance, Ramoji Film City would don a dazzling look with exquisitely designed illumination extravaganza. As the evening dawns, the designer meadows, spectacular gardens, and scintillating avenues would just be transformed into a carpet of lucid dreams.
3. Carnival Parade:
The multi-hued themed floats marching on the dream avenues – it's all about breaking free and drowning in a sea of the spectacles, music, and costumes. The pageantry of Carnival, the jugglers, high-hatted stilt walkers and jesters with amusing live acts are sure to accentuate the mood!
4. Extended Visiting Hours:
More time for more fun! It's time for celebration and savoring the festive delights. So to make the most of fun in the alluring ambiance, special evening entertainment, and spectacular carnival parade; the visiting hours for the guests have been extended till 8 P.M.
Book Ramoji Film City Online Entry Tickets & Bus Transportation @ Book Now

Book Now
Book Now