Eureka Fort at Ramoji Film City
Princess Eureka, the Living Legend of the Kingdom
Book Now
Eureka Fort at Ramoji Film City
Princess Eureka, the Living Legend of the Kingdom
Princess Eureka, the powerful warrior is popularly known for the victory in winning every battle that attacked her kingdom. She is indeed the most beautiful lady with a graceful charisma. She ruled her kingdom like no other king in the world and the people of her kingdom praised her for her wisdom and gratefulness and never faced any scarcity of water, food, and shelter.
People of her kingdom worshipped her as the living goddess came to save their kingdom from every evil attack and as an honor to the princess, they call her name first in their morning prayers which reveals their devotion towards ferocious warrior Princess Eureka Fort.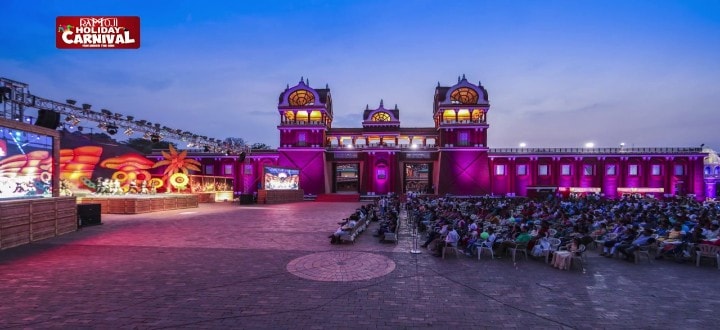 In a course of time, mysterious evil attacks have already set the kingdom in risk as the fort was set in flames in minutes when the talk was passed to the princess. Sadly, all the colorful hues of parades, horse rides, and sword fight practices disappeared and people began running everywhere to save their lives from the enemies as they are killing brutally every person they came across to reach the fort! There is no king to protect the attacked kingdom, but, our powerful warrior, Princess Eureka motivated her army and gave powerful determinations to kill everyone in one attack without any mercy!
Her ministries gave their powerful strength to defeat the enemy trying to ahead their fort and rule it. Struggling for freedom is increased as the attacks on the fort increased rapidly. When people losing hopes of saving their lives Eureka took the strength and never gave up to save her kingdom. Her will-power to save her people driven everyone to move forward in the battle in the hope to see the silver line of their lives.
Her fierce armies and powerful ministries went forward to defeat their enemy as the war never seemed to see an end, her army was losing as the enemy army started rising in numbers attacking their kingdom. Hold on your excitement! Watch it directly till the end to see if Princess Eureka will save her kingdom from the brutal enemy. Make your presence in the adorable princess Eureka Fort, by visiting Ramoji Film City Hyderabad to experience the splendid joy of life!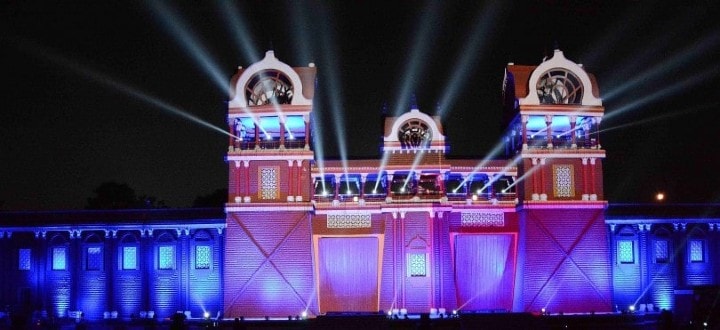 Eureka Shows and Timings:
1. Spirit of Ramoji (Alampana Theatre)
Show Timings: 12:45pm & 4:00pm
Optional Timings: 10:15am, 11:30am, 2:00pm, 3:00pm & 5:00pm
2. Wild West Stunt Show
Show Timings: 12:00pm & 4:45pm
Optional Timings: 11:00am, 1:30pm, 2:30pm, 3:30pm & 5:00pm
Note: Timings are subject to change, please check with your nearest help desk.
Eureka Rides:
| | | | |
| --- | --- | --- | --- |
| S.No | Ride Name | Age Limit | Charges |
| 1 | Carousel | 5 years and Above | Complimentary |
| 2 | Break Dance | 12 years and Above | Complimentary |
| 3 | Ranger | Between 16 - 50 years | Complimentary |
| 4 | Frisbee Coaster | Between 16 - 50 years | Complimentary |
| 5 | Bull Ride | Min. 8 years | Rs.40/- |
| 6 | Kiddy Train Ride | Between 3 - 8 years | Rs.10/- |
| 7 | Bungee Trampoline | 5yrs above - upto70kg | Rs.50/- |
| 8 | Bumping Car | Min. 5 years | Rs.50/- |
| 9 | Net Cricket | Min. 5 years | Rs.100/- |
| 10 | Super Jet | 12 years and Above | Complimentary |
| 11 | Thrill Ride - Simulator | 5 years and Above | Rs.30/- |
| 12 | Game Zone (Video games) | | Rs.20/- each |
| 13 | Eyelusion Galley | Timings: 10:30am - 5:00pm | Adult - Rs.150/-, Child - Rs.100/- |
Note: 5 - 12 years old with accompanying adults can partake in the Ride
1. Ride Name: Carousel
Age Limit: 5 years and Above
Charges: Complimentary
2. Ride Name: Break Dance
Age Limit: 12 years and Above
Charges: Complimentary
3. Ride Name: Ranger
Age Limit: Between 16 - 50 years
Charges: Complimentary
4. Ride Name: Frisbee Coaster
Age Limit: Between 16 - 50 years
Charges: Complimentary
5. Ride Name: Bull Ride
Age Limit: Min. 8 years
Charges: Rs.40/-
6. Ride Name: Kiddy Train Ride
Age Limit: Between 3 - 8 years
Charges: Rs.10/-
7. Ride Name: Bungee Trampoline
Age Limit: 5 years above or up to 70kg Wt.
Charges: Rs.50/-
8. Ride Name: Bumping Car
Age Limit: Min. 5 years
Charges: Rs.50/-
9. Ride Name: Net Cricket
Age Limit: Min. 5 years
Charges: Rs.100/-
10. Ride Name: Super Jet
Age Limit: 12 years and Above
Charges: Complimentary
11. Ride Name: Thrill Ride - Simulator
Age Limit: 5 years and Above
Charges: Rs.30/-
12. Ride Name: Game Zone (Video games)
13. Ride Name: Eyelusion Galley
Timings: 10:30am - 5:00pm
Charges: Adult - Rs.150/-, Child - Rs.100/-
Note: 5 - 12 years old with accompanying adults can partake in the Ride
Restaurants & Food Outlets at Eureka:
| | | | |
| --- | --- | --- | --- |
| S.No | Restaurant Name | Variety of Food | Prices |
| 1 | Super Star A/c Multicuisine | Veg & Non-Veg Buffet | Rs.500/- to Rs.600/- |
| 2 | Sangam | South Indian Veg Buffet | Rs.231/- to Rs.289/- |
| 3 | Alampana | Hyderabadi Veg & Non-Veg | Rs.242/- to Rs.263/- |
| 4 | Dil Se | Indian Combo Meals | Rs.242/- to Rs.263/- |
| 5 | Chanakya | Jain Buffet | Rs.231/- to Rs.289/- |
Restaurants:
1. Restaurant Name: Super Star A/c Multicuisine
Variety of Food: Veg & Non-Veg Buffet
Prices: Rs.500/- to Rs.600/-
2. Restaurant Name: Sangam
Variety of Food: South Indian Veg Buffet
Prices: Rs.231/- to Rs.289/-
3. Restaurant Name: Alampana
Variety of Food: Hyderabadi Veg & Non-Veg
Prices: Rs.242/- to Rs.263/-
4. Restaurant Name: Dil Se
Variety of Food: Indian Combo Meals
Prices: Rs.242/- to Rs.263/-
5. Restaurant Name: Chanakya
Variety of Food: Jain Buffet
Prices: Rs.231/- to Rs.289/-
Food Outlets:
| | | |
| --- | --- | --- |
| S.No | Food Outlets Name | Variety of Food |
| 1 | Franky | Takeaway Frankly |
| 2 | Plaza Food Court | Tea /Coffee & Snacks Outlets |
| 3 | Plaza Food Court / Ice Cream Novelties | - |
1. Food Outlets Name: Franky
Variety of Food: Takeaway Frankly
2. Food Outlets Name: Plaza Food Court
Variety of Food: Tea /Coffee & Snacks Outlets
3. Food Outlets Name: Soda Hub
Food Outlets Name: Ice Cream Novelties
Shopping Centers at Eureka:
| | | |
| --- | --- | --- |
| S.No | Shop Name | Type of Merchandise |
| 1 | Magadha | Apparels and Accessories |
| 2 | Mourya | Gifts and Novelties |
| 3 | Meena Bazar | Pearls, Imitation Jewellery & handicrafts |
1. Shop Name: Magadha
Type of Merchandise: Apparels and Accessories
2. Shop Name: Mourya
Type of Merchandise: Gifts and Novelties
3. Shop Name: Meena Bazar
Type of Merchandise: Pearls, Imitation Jewellery & handicrafts
Eureka Facilities:
Wheelchair Facility
Pram Facility
First Aid
Baby Feeding Room
Lost & Found and Help Desk
Toilets For Disabled
Digi Photo (Digital Photography Rs. 290 - 2600/-)
ATM at Sangam Restaurant
Book Now
Book Now