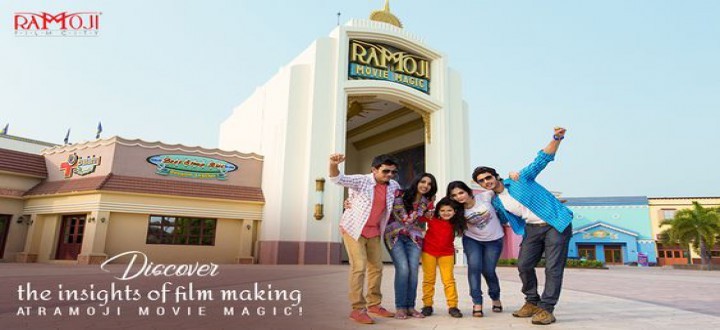 Free Rides Inside Ramoji Film City
Free Rides Inside Ramoji Film City
Brief About Ramoji Film City:
Ramoji Film City is the world's largest integrated film city and India's only thematic holiday destination with magic of cinema, there's something special for you here. Spread across a sprawling 2000 acres located in Hyderabad.
If you want to Visit Ramoji Film City, you have to buy Entry Ticket which is basic Entry Fare starts from Rs.1150 per head. With this one entry ticket you can see the total Ramoji Film City along with some Free & Paid Rides.
Rides inside Ramoji Film City:
There are number of Free & Paid rides inside Ramoji Film City, below are the some of them:
| Ride Name | Location | Age Limit | Charges |
| --- | --- | --- | --- |
| 1. Carousel | Eureka (Rides Zone) | 5 years above | FREE |
| 2. Break Dance | Eureka (Rides Zone) | 12 years and above | FREE |
| 3. Ranger | Eureka (Rides Zone) | Between 16-50 years | FREE |
| 4. Frisbee Coaster | Eureka (Rides Zone) | Between 16-50 years | FREE |
| 5. Bull Ride | Eureka (Rides Zone) | Min.8 years | Rs.40 |
| 6. Kiddy Train Ride | Eureka (Rides Zone) | Between 3-8 years | Rs.10 |
| 7. Bungee Trampoline | Eureka (Rides Zone) | 5 years above or up to 70kg wt | Rs.50 |
| 8. Bumping Car | Eureka (Rides Zone) | Min.5 years | Rs.50 |
| 9. Net Cricket | Eureka (Rides Zone) | Min.5 years | Rs.50 |
| 10. Segway Ride | Eureka (Rides Zone) | Min.5 years | Rs.200 |
| 11. Super Jet | Eureka | 12 years and above | FREE |
| 12. Thrill Ride - Simulator | Eureka | 12 years and above | Rs.30 |
| 13. Game Zone | Eureka (Video Games) | | Rs.20 |
| 14. Dadajinn's Ark | Fundustan (Video Games) | | Rs.20 |
| 15. Skating | Fundustan | Min.12 years | Rs.20 |
| 16. Funny Rides | Fundustan | Between 3-8 years | FREE |
| 17. Twister | Fundustan | 12 years and above | FREE |
| 18. Segway - Eco tour | Askari Garden | 5 years and above | Rs.400 |
| 19. Virtual Reality Games | Game Zone - Eureka | | Rs.100-150 |
Book Ramoji Film City Online Entry Tickets & Bus Transportation @ Book Now