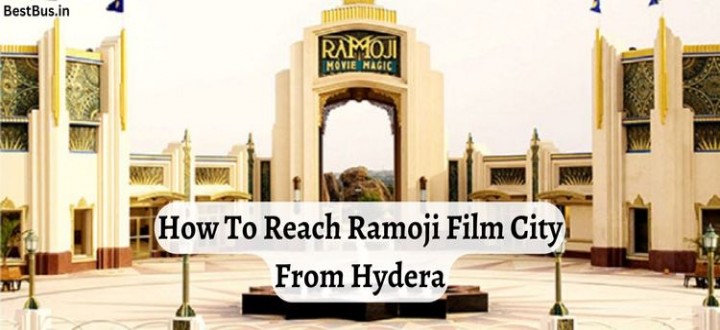 Best Ways To Reach Ramoji Film City From Hyderabad
Reach Ramoji Film City Safely with Us
Ramoji Film City is a popular tourist destination located in Hyderabad, India. The film city is spread across an area of more than 2,000 acres and is known for its beautiful gardens, film sets, and other attractions. If you're planning to visit Ramoji Film City, here's a guide on how to reach there from Hyderabad.
Best Ways To Reach Ramoji Film City From Hyderabad
The best and most convenient way to reach Ramoji Film City from Hyderabad is by road. The film city is located approximately 30 kilometers from Hyderabad and is well-connected by roads. You can either drive down to the film city or take a bus or taxi.
Reach Ramoji Film City From Hyderabad by Bus
There are two ways to reach ramoji film city by bus from hyderabad i.e., Private Travels and TSRTC Buses. If you don't want to change multiple buses roughly 2 or 3 times, then our transportation is the best choice, and they are available up to 9 PM at Ramoji Film City during special seasons too. And mostly, TSRTC buses only available in few major areas in Hyderabad to the film city. But, private travels available from 60+ boarding and dropping points (major areas) in hyderabad. AC and Non AC buses also available at an affordable price. You can book private travels bus tickets at any time online @ BestBus. The following are the boarding points for private buses.
Book Bus To Ramoji Film City Now
BHEL Depo, Main Gate
Lingampally X Roads, Bhel Chekpost
Kondapur,Near Harsha Toyota
Chanda Nagar, R.S Brothers
Chanda Nagar, RTC Bus Stop
Gachibowli ,Cross Roads, Opp.ORR, Near punjabi rasoi, Maharaja Hotel
Madinaguda, Bajaj Electronics
Allwyn X Roads, Allwyn X Roads
Biodiversity, Vibrant Nissan Showroom
Miyapur X Roads, Indian Oil Petrol Bunk
Hi-Tech City, Opp. Cyber Towers
Madhapur, Image Hospital
Balanagar, Vimal Theater
Hyder Nagar, Rainbow Children's Hospital
Nizampet X Roads, More Megastore
K.P.H.B - JNTU, Railway Reservation Counter
K.P.H.B, Kalamandir
Kukatpally, BJP Office
Moosapet, Bharath Petrol Bunk
Bharath Nagar, Victoria Restaurant
Erragadda, St.Theresa Church
S.R Nagar, ICICI Bank
New Bowenpally, Gulf Bakers Restuarant
Ameerpet, R.S. Brothers
Patny, Ganesh Temple
Panjagutta, Hyderabad Central
Paradise Circle, Paradise Hotel
Somajiguda, Opp
Khairatabad, ICICI Bank
Lakdikapool, The Central Court Hotel
Nampally, Opp.Nampally Railway Station
Abids, Big Bazaar
Secunderabad, Padmaja Hotel & Lodge
Kachiguda, Hotel Tourist Plaza
Sangeeth X Road, Sangeeth X Road
Koti, Opp
Mettuguda Metro Station, Mettuguda Metro Station
Chaderghat, Opp
Tarnaka, Big Bazaar
Habsiguda, Habsiguda Metro Station
Malakpet, Yashoda Hospitals
Nalgonda X Roads, Yashoda Hospital
Vanasthalipuram, Opp.Sushma Theatre,Hotel Raghavendra
Dilsukhnagar, RTC Bus Stop
Uppal X Roads, Uppal Metro Station
Chaitanyapuri, ICICI Bank
Kothapet, Rythu Bazar
NTR Nagar, R.R.D Court
Nagole X Roads, Bharath Petrol Bunk
High Court Colony, Deer Park
Alkapuri X Road,Mahindra Finance
Kamineni, Kamineni Hospitals
Sushma, Sushma
Hayathnagar Depo, HDFC Bank, Hayathnagar
Auto Nagar, Bharath Petrol Bunk
Hayathnagar, Hayath Nagar Bus Stop
Word & Deed, Word & Deed School
LB Nagar X Roads, Hotel Sitara Grand
Laxma Reddy Palem, Hanuman Temple
Vanasthalipuram, Rtc Reservation Counter
RTC Colony, Krishnaveni Hospital
Amberpet, A1 Bakery
Bhagyalatha, Rtc Bus Stop
Reach Ramoji Film City by TSRTC Transportation: TSRTC runs a bus from mehadhipatnam to ramoji film city with multiple boarding points and its number is 205F. The bus starts at first boarding point around 6 AM every day. Please check the return bus available timings from ramoji film city to your location before you board the bus. According to that, you can schedule your tour in film city without worries. Winter Fest has started in Ramoji Film City already and it's end at 9 PM. So, TSRTC buses not available all time after 7 PM at that location.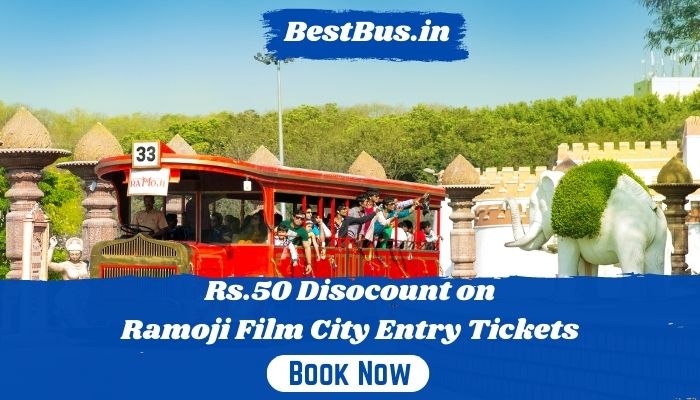 Reach Ramoji Film City From Hyderabad by Metro
In Hyderabad, metro is well-connected to all major areas in Hyderabad. The nearest metro station to ramoji film city is LB Nagar. There are a number of buses, autos, and other private buses available from there. Metro starts from 6 AM and departure time at last station is 11 PM every day.
Book Bus To Ramoji Film City Now
Reach Ramoji Film City From Hyderabad by Car
Private Taxis, Ola, Uber, Rapido available from multiple areas in hyderabad to ramoji film city. But, the fare is a little high compared to the above mode of transportation.
In summary, reaching Ramoji Film City from Hyderabad is easy and convenient. You can either drive down, take a bus, hire a taxi or take a metro. It takes around 1 hour to cover the distance by road. Make sure you book your entry tickets in advance and have a memorable visit to Ramoji Film City.