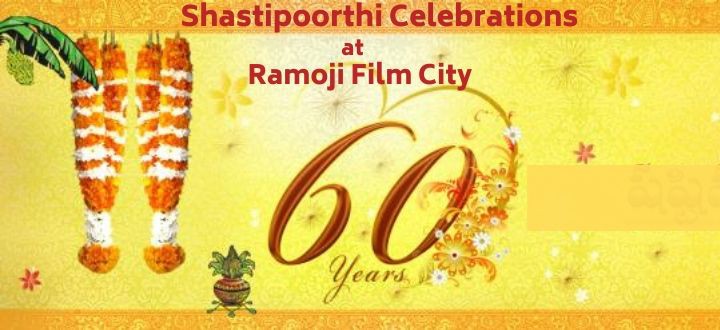 Shastipoorthi Celebrations at Ramoji Film City
Revive your wedding vows!
Book Now
Shastipoorthi Celebrations @ Ramoji Film City
Shastipoorthi celebration is a very precious ceremony in Hindu tradition which is celebrated to renew the vows of marriage. Shastipoorthi is celebrated at the age of the couple crossing the age of 60 years and in other, it is the memory of completion of one cycle of human life according to the Hindu calendar as the human lifecycle is denoted for 120 years. This sweet 60 years completion is celebrated to repeat, remind and renew their married life and their vows made during their wedding and celebrate it in the attendance of all the family members, relatives, and friends.
Shastipoorthi is celebrated by the children to their parents reuniting all the family members and bring the vibes of their marriage and perform all the rituals of the Shastipoorthi like Kranti, Shanti and end with the beautiful part of the ceremony "Kalyana Veduka" as children perform their parent's second wedding is so memorable moment in their lives. The ideal place to celebrate this event in a grandeur wat in Hyderabad with spectacular options available for the ceremony is Ramoji Film City is the extraordinary option to celebrate your parents Shastipoorthi in the serene locations available apt to the ceremony.
Ceremonies in Ramoji film city is always a treat to the people with all the grand decorations, arrangements with grand elements floral decorations made by the great management people with smiling faces. Ramoji Film City is all about entertainment offering you the best locations for the Shashtipoorthi ceremony. Ramoji film city offers a wide range of options suitable for the ceremony like the traditional sets, temple sets and many other customized themed sets ideal for the Shastipoorthi ceremony. Gardens in the film city are really manicured and lush green landscapes are perfect for the evening celebrations and for the big fat family this is the perfect option you can choose from the royal Mughal gardens to the classic charisma gardens depends on your choice.
Besides locations, gardens and sets in Ramoji film city suggested for Shastipoorthi celebrations, there are luxury hotels perfect for the family functions and events offering wide furnished banquet halls, interior arrangements, decors and delicious food to relish the guests taste buds. This is the opulent perfect place to celebrate huge celebrations of your life like Shastipoorthi in Ramoji film city of your parents renewing tier marital vows!
Book Now
Book Now