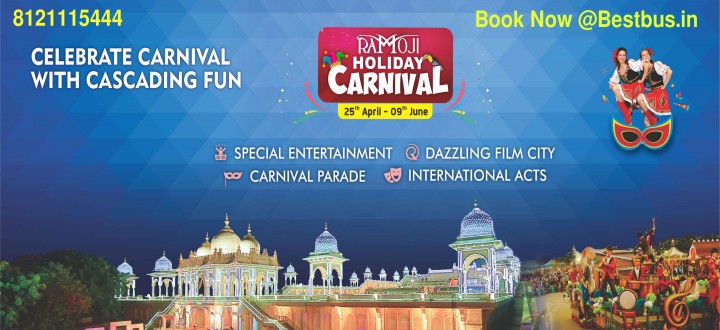 Summer Special Packages in Ramoji Film City
Summer Special Packages in Ramoji Film City
Book Now
Summer Special Packages in Ramoji Film City
The 46-day Holiday Carnival brings gaiety and revelry for the holidaymakers. It's wonderful for families to share and celebrate the excitement that Ramoji Film City has to offer! Come and rejoice in myriad flavors.
Spectacular Carnival
Dazzling Holiday Specials
Spectacular Carnival:
The essence of the lively celebration is best reflected in the fascinating Carnival – which is a brazen display of sights and music. The flashy tableaux drift on the dream avenues captivating the minds. It's the melodies, high-hatted stilt walkers and costumed characters with live acts that make the most of interactive fun.
Dazzling Holiday Specials:
It's a full play of entertainment with special dance and music are woven into the grandeur of Gardensperpetuating the holiday mood. The infinite charms and compelling flavors are sure to elevate the experience of fun several notches up. The holiday illumination extravaganza makes scintillating meadows, gardens and avenues glow in the dark– expressing an artful illumination of Nature! Enjoy live stage shows, performances, games, and thrilling rides. Be in the midst of exhilarating fun activities and revel in sparkling evening entertainment.
Holiday Carnival Tour Packages:
Holiday Carnival Day Tour
Holiday Carnival Star Experience
Holiday Carnival Noon Fiesta
Holiday Carnival Twilight Package
Book Now
Book Now