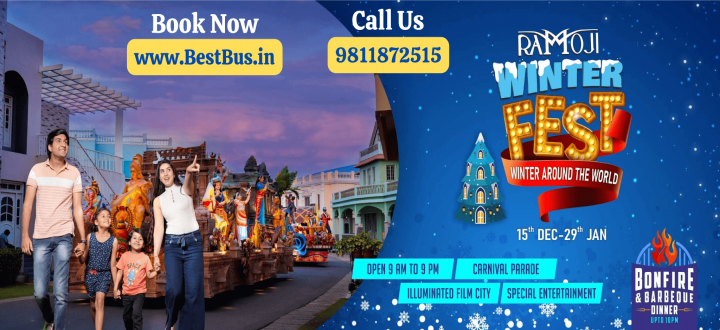 Ramoji Winter Fest Celebration Packages
Get Ready For The Winter Holiday Fun and Frolic
The escape of fun with the enchantment of film offers day by day live shows, the guided voyage through the pretend world, intellectual stimulation, diversions, rides, stunt shows, and experience to make your family occasion important. Aside from day-long commitment, you can look for comfort in the nature based attractions that incorporate a marvelous butterfly park, a bonsai cultivate and a hypnotizing winged creature park. Occasion specials for you to experience will be the sparkling fair procession, lit up the atmosphere and restrictive stimulation at night.
It's time to soak up in the cine-magic and special holiday delights.
Longest Winter Fest Celebration Packages in Ramoji Film City
The Longest Winter Fest at Ramoji Film City starting from 15th December would bring holiday cheer complimenting charming wintry sensation. The thematic attractions riding on fun, fantasy and moments of exotica will leave you spellbound. Besides, the studio tour package that offers magic behind the silver screen, several premium packages are available for our privileged guests. Come with your family and friends and stay in Ramoji Film City for a more engrossing and spellbinding experience.
1. Ramoji Winter Fest Day Tour
Ramoji Film City Timings: 9.00 AM to 9.00 PM
Adult: Rs 1350/- + Taxes
Child: Rs 1150/- + Taxes [Child (33" Ht to 54" Ht)]
2. Ramoji Winter Fest Star Experience
Ramoji Film City Timings: 9.00 AM to 9.00 PM
Adult: Rs 2549+ Taxes
Child: Rs 2349 + Taxes [Child (33" Ht to 54" Ht)]
FASCINATING STUDIO TOUR
Let magnetic film sets, thematic attractions conspire and make you dazzle like a star.
Get on to the dream tour in the land of a million dreams. Experience cine-magic in charming locales wrapped up in a world of make believe and glamour. Enjoy alluring fun with exciting live shows, games, stunt shows, fun rides, exclusive children's attractions, and soothing nature-based attractions. The studio tour would get more exciting; when the complete environs get into a perfect holiday spirit. Enjoy the leisure activities and the best of the festive season.
It would be one big colorful party. The exhilarating mixed bag of family fun will come with the riveting studio tour, illuminated ambiance and evening entertainment culminating in Carnival parade. A visit to the spectacular Bahubali sets would be a splendid affair.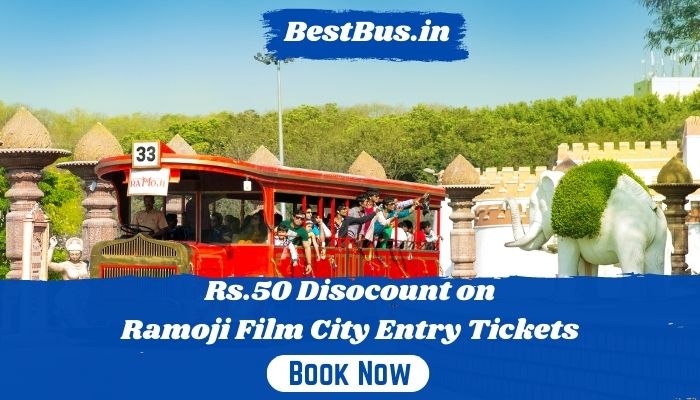 1. IRRESISTIBLE BAHUBALI SETS
A visit to the magnificent sets of Bahubali would smash the monotony of your existence. Be in awe of the sheer scale and marvel of the artistry, as you re-experience the pure spectacle of the high drama unfolding in front of your eyes in the fictional city of Mahishmati.
2. CARNIVAL PARADE
A grandiose interplay of sights and sounds would hoist the elevated spirit. The magical avenues will be explored with gaudily-decked themed Carnival tableaus. The lively experience would gain momentum, as the pageantry presents itself with booming music. Dancers swaying to the beats, clowns, jugglers and stilt walkers are sure to leave trails of joy in their wake.
3. GRANDEUR OF LIGHTS
It's a painting in light on the canvas of dreams. The festivity with a flair for grandeur, Ramoji Film City will sparkle bright with a rainbow of colors. The gardens and avenues lit incredibly would transform into lucid dreams, as every single evening is filled with overwhelming fun.
4. SPECIAL ENTERTAINMENT
Ramoji Film City will come alive with leisure activities and special entertainment to portray myriad moods. Every presentation with absolute holiday flair will have its leanings on fantasy and magic of cinema with all the drama and spectacle. The stage show with live acts will be the centerpiece of the attractions.
NEW YEAR BONANZA ON 30 Th & 31st DECEMBER:
Catching the disposition of the New Year, Ramoji Film City expedites New Year specials 30 th & 31 st December. The line-up of stimulation is extraordinarily intended to develop the fervor for the rocking New Year glimmering appears and sizzling gatherings. Experience the New Year's Eve party in the setting of Magnificient Bahubali, the uncommon minutes to esteem with your family and companions.
STAY PACKAGES WITH RELAXING VACATION
You can make the most of the Longest Winter Fest and revel in rocking New Year parties exclusively designed for the hotel guests. In fact, several attractive hotel stay packages have been designed for two nights and three nights stay in the dreamy environs.
For a true appreciation of the enthralling fun and soothing vacation, stay-for-a-day is not just enough! So opt for attractively designed stay packages that suit your budget for two, three, four or five nights to make the most of the experience. It's time to pitch a tent in the land of cine-magic and stay close to all the action that is brewing during the Winter Fest! For exceptional Winter Fun, decide on the right accommodation. Wide-ranging options are available at Ramoji Film City for our discerning guests. Stay at Hotel Sitara – Luxury Hotel, Tara – Comfort Hotel, Vasundhara Villa - Farm House, Shantiniketan – Budget Hotel, Sahara – Shared Accommodation, Greens Inn – In the lap of Nature.
1. FINAL CUT - 5 NIGHTS' STAY
As nestling in the enchanted land of cine-magic becomes heartening, enrich your stay with more exciting colours and textures of the holiday. Go on a trip to the historic Hyderabad city and be in the grip of the mystique of the fort, architecture and rich cultural heritage.
For sure, there will be no dearth of experiences to explore and admire.
2. CINEMASCOPE – 4 NIGHTS' STAY
It's the glamour of cinema that tips the scales in favour of grand holiday moments. As you stay more, the experience of festivity gets richer and etched in the memory forever. Visit to the intricate and authentic film sets that paint a real portrayal on screen. Have lots of recreational fun with games, sports, and adventure.
Add to your vacation a pleasant stay with delights of the festivity galore.
3. SILVER SCREEN – 3 NIGHTS' STAY
Are you in for a deep dive into swirling silver screen enchantment? Relive the locations where the magic of cinema has been brought to life, the imagination and ingenuity at work; and of course the captivating flavours of winter holidays. The old world charm and exuberance of Nature are sure to enthuse. Experience a memorable stay and exclusive engagements with the festivities.
4. FIRST CUT - 2 NIGHTS STAY
It's going to be a quick sojourn, where the glamour of cine-magic will come together with the festivity of the winter. Have a wonderful stay, experience special attractions, myriad leisure activities and an excellent mix of entertainment.
Stay more to explore more of the inimitable Ramoji Film City and have a splash in the festive celebration.