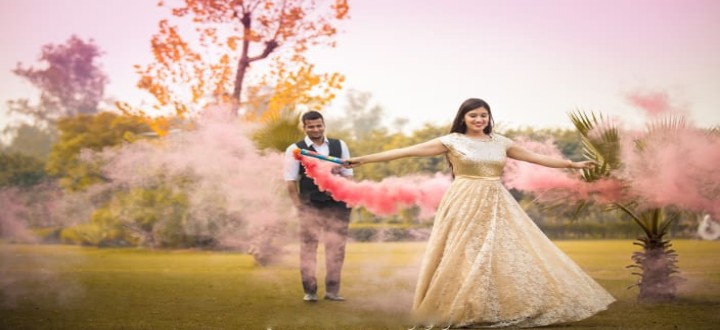 Pre Wedding Photo Shoot at Ramoji Film City
It has a spectacular locations of nature spot for Photoshoot
Book Now
Pre Wedding Shoot at Ramoji Film City
It's a dream for every couple to celebrate their wedding in a celebrity style and live to the fullest in the grandeur of their wedding. Well, these days are trending with pre-wedding shoots before the wedding bells have rung, your crazy fantasies of being a celebrity and pose for pictures and do a small shoot being as a charming heroine and a gentleman is the sweetest moment of life.
But searching for pre wedding photo shoot is a big task and you always have the blueprints of certain locations where you want to run in the wind waving your beautiful saree and imagine your man is about to hug you giggling, we heard you! Ramoji Film City has spectacular locations of nature spots for the prewedding photography and vivid filmy sets to make your dream moment a true one.
Ramoji Film City has designed customized pre wedding shoot packages for the wedding couple to live their dream and get their pre wedding photoshoot done in their favorite locations. You dream it we make it, our specialist designers can create any imagined location to make your pre wedding shoot the remembered one. Pre Wedding shoot prices vary for every location you choose and depend on your customized sets as well and you can also avail amazing offers on your photoshoots.
If you are still wondering and passing time which location will be perfect and what attire required for the shoots, we have got you spectacular options for the best pre wedding shoot and make your shoot a lovely hit! Take a look at the eye-catchy views and photogenic locations of Ramoji Film City that gives you some amazing pictures to admire every day of your new beginnings.
Rose Gardens and Japanese Gardens
These beautiful gardens are the best choices to have the most romantic pre wedding shoots wandering in nature views and playing the roles of your favorite hero and heroines and make your wedding shoot a blockbuster hit!
Sun Fountain Garden for that Filmy Look
This is the iconic place of all the gardens in Ramoji Film City and picturesque spot for the Pre Wedding shoot. Waves of water gushing out from the fountain with the chariot drawn horses remind the iconic scene from the famous blockbuster Magadheera and fountain surrounded by lush green landscapes all together forms a pristine environment for the best pre wedding pics.
Bahubali Set - To Get The Historic Love
Get hitched in the famous Bahubali set and spend some historic love moments treating yourselves as Bahubali and Devasena to get the most iconic pictures of your best day.
Mughal Gardens
Go back to the Mughal era and have endless treats as the royal king and queen in the scenic views of the gardens. To revive the historic fantasy in you, this is the perfect spot for a couple pre wedding shoot.
Askari Gardens
Askari gardens with green landscapes and plenty of floral plants where you can feel the touch of love in nature and get some cool pictures.
Ramoji Film City is the best place for the Pre Wedding shoot in Hyderabad with a wide range of sets and locations for shooting. Apart from these, you can fix plan your shoot at Bird park, Eureka fort and for the fun pre wedding shoot you can even plan in Sahas adventures, whatnot, you can do anything at Ramoji Film City.
Pre Wedding Shoot Timings: 9:00 AM-8:00 PM
Location: 30kms away from the city via NH9
Major attractions for Photoshoot: Romantic Gardens, Gushin fountains, SAHAS Adventure Land, Water parks and many customized sets for pre wedding shoots.
Book Now
Book Now