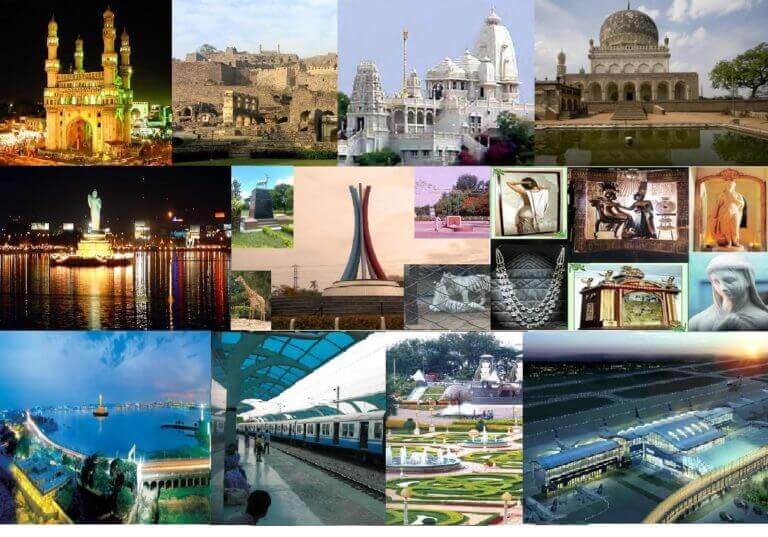 Hyderabad City Tour by Van
Hyderabad city tour by van
Hyderabad City Tour by Van
Hyderabad is the capital of southern India's Telangana state. A major center for the technology industry, it's home to many upscale restaurants and shops. Its historic sites include Golconda Fort, a former diamond-trading center that was once the Qutb Shahi dynastic capital. Hyderabad city has More Attractive Beautiful Places and This is a memorable trip for You, Do visit all these beautiful places and share your experiences as well.
Itinerary of Hyderabad City Tour
This Hyderabad City Tour includes the following things. After Pick-up all passengers from different pick-up locations, Tour will start from Birla Mandir and follow the below sequence
1. Birla Mandir
Birla Mandir on the Naubath Pahad is a Hindu temple of Lord Venkateshwara, built entirely of white marble located in Hyderabad. The Birla Foundation has constructed several similar temples in India and all of them are known as Birla Mandir. Having chief deity is Lord Venkateshwara, the temple has a pan-Hindu character with deities of Shiva, Shakti, Ganesh, Hanuman, Brahma, Saraswati, Lakshmi, and Saibaba. The selected teachings of holy Gurbani are engraved on temple walls. Birla temple is open to all, as identified by Mahatma Gandhi and other Hindu leaders as one of the major social evil that was to be reformed in modern India as part of Freedom struggle.
* * * * * * * * * *
2. Golconda Fort
Golkonda is a ruined city of south-central India and capital of ancient Kingdom of Golkonda, situated 11 km west of Hyderabad. The builder of Golkonda was Ibrahim Quli Qutub Shah Wali, the 4th Qutub king of the Qutub Shahi Dynasty. Ibrahim was following in the spirit of his ancestors who had ruled the kingdom of Golkonda from 1512. Their first capital, the fortress citadel of Golkonda, was rebuilt for defense from invading Mughals from the north. They laid out Golkonda's splendid monuments, now in ruins, and designed a perfect acoustical system by which a hand clap sounded at the fort's main gates.
* * * * * * * * * *
3. Salar Jung Museum
The Salar Jung Museum is an art museum at Darushifa, on the southern bank of the Musi River. It is one of the three National Museums of India and has a collection of sculptures, paintings, carvings, textiles, manuscripts, ceramics, metallic artifacts, carpets, clocks, and furniture from Japan, China, Burma, Nepal, India, Persia, Egypt, Europe, and North America. Salarjung Museum is the third largest museum in India having the biggest one-man collections of antiques in the world. It is well known throughout India for its prized collections belonging to different civilizations. Few people believe that the present collection constitutes only half of the original art wealth collected by Salar Jung.
* * * * * * * * * *
Book Hyderabad Sightseeing Tour
4. H.E.H Nizam Museum
Nizam Museum or H.E.H Nizam's Museum is a museum located in Hyderabad at Purani Haveli, a palace of the erstwhile Nizams. This museum showcases the gifts that the last Nizam of Hyderabad state, Osman Ali Khan, Asaf Jah VII received on his silver jubilee celebrations. The museum is a repository mainly of souvenirs, gifts, and mementos presented by dignitaries to the last Nizam gifts and mementos presented to the last Nizam on the occasion of the silver jubilee celebrations in 1936.
* * * * * * * * * *
5. Charminar
Built-in 1591 AD, Charminar is a landmark monument located in Hyderabad. The English name is a transliteration and combination of the Urdu words Char and Minar, translating to "Four Towers". The eponymous towers are ornate minarets attached and supported by four grand arches. The landmark has become a global icon and landmark of Hyderabad, listed among the most recognized structures of India. The Charminar is on the east bank of Musi River, to the northeast lays the Laad Bazaar and in the west end lies the granite-made richly ornamented Makkah Masjid.
* * * * * * * * * *
Book Hyderabad Sightseeing Tour
6. Sudha Cars Museum
Sudha Cars Museum is an automobile museum located in Hyderabad, India. The museum displays "crazy cars" that resemble everyday objects. These cars are handmade by K. Sudhakar who started it as his hobby in his school days and opened the dedicated museum in 2010.
* * * * * * * * * *
7. Lumbini Park
Popular park on a lake with gardens, musical fountain shows, a large Buddha statue & boat rides. Lumbini Park is a 7.5-acre (3-hectare) lakeside park known for its 3-D laser display, musical fountain, speedboats, and picnic areas. Come to relax on the banks of Hussain Sagar or spend a full day enjoying the park's many attractions, including evening light shows.
* * * * * * * * * *
8. Hussain Sagar
Hussain Sagar is a necklace shaped lake in Hyderabad built by Ibrahim Quli Qutb Shah and named after Hussain Shah Wali. It is spread across an area of 5.7 square kilometers and is fed by River Musi. A large monolithic statue of the Gautama Buddha, erected in 1992, stands on Gibraltar Rock in the middle of the lake.
* * * * * * * * * *
9. NTR Gardens
NTR Gardens is a small, but popular, public, urban park adjacent to Hussain Sagar lake in Hyderabad, India. Constructed in several phases since 1999, the area that is predominantly a park is geographically located in the center of the city. The place is close to other tourist attractions such as Birla Mandir, Necklace Road, and Lumbini Park, presently being maintained by the Buddha Purnima Project Authority that functions under the directives of the Government of Telangana.
* * * * * * * * * *
Book Hyderabad Sightseeing Tour
10. 3D World at Golconda
A 40-minute film on the history of Hyderabad that dates back to the Bahmani Sultanate to the present times and a museum with rare photographs of the Deccan region is shown in this theatre with a capacity of 60 seats per show. The film is available in English and Hindi.
* * * * * * * * * *
Please select your preferred Van below: 1 Day Hyderabad City Tour Fare Details (per Vehicle)
1. Maruti Suzuki Omni ( 5 Seats )
Includes Driver
Includes Car Parking
Price: Rs. 4000/-
2. Mahindra Supro (8 Seats )
Includes Driver
Includes Car Parking
Price: Rs. 6000/-
3. Tata Magic ( 5 Seats )
Includes Driver
Includes Car Parking
Price: Rs. 4500/-
4. Maruti Suzuki Eeco ( 5 Seats )
Includes Driver
Includes Car Parking
Price: Rs. 4000/-
NOTE:
Hyderabad City Tour and Pick-Up starts from morning 7:00 AM onwards in 3 different routes.
DENOTES:
Closed on Fridays and few public holidays (as per Government of Telangana State)
The Fare includes only of transport services along with Tour Guide.
The Fare does do not include any Entry Tickets, Lunch or any other charges.
All the Entry Tickets, Lunch & any other charges are to be borne by the tourists separately.
Make sure your Pick-up & Drop point should be the same.
For more details please visit our website bestbus.in
Mail 1: info@bestbus.in
Mail 2: bestbus.in@gmail.com