A G Holiday provides on line bus booking facility for most of the cities of India. Now you just need to click you mouse to visit anywhere in India
A G Holiday is a leading coach and bus booking service provider.
Our professional staff having many years experience with in the industry and our aim is to make your group travel arrangements not only practical but cost effective. We can match any vehicles to your requirements, be it schools, private hire or corporate hire.
Our Services
Owing to our industry experience and in-depth knowledge, we are able to offer our clients an extensive range of travel packages cat ering to the needs of our clients spread all across the nation. The travel services provided by us are designed keeping in mind the budgetary constraints of various clients and can also be customized as per their requirements. Moreover, we also undertake bus, car and hotel bookings.
The range of Tour and Travel packages offered by us includes Tour Packages, Adventure Tour Packages, Pilgrimage Tour Packages and Leisure Tour Packages.
Bus/Car Rentals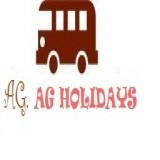 Top Bus Services ofA G Holiday